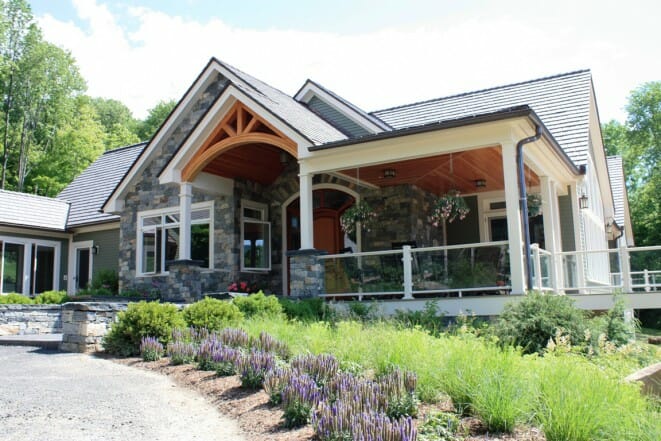 Vermont Timber Works constructed modern Glulam trusses for the Daignault Residence using traditional timber framing techniques.  We worked with Jim Turgeon General Contracting and Westall Architects on this project.
If you like this timber frame home, or have any timber work questions, we invite you to get in contact or ask an expert!
We love to hear our clients' ideas. We take the time to listen and work with them to design beautiful wood beams. With over 26 years of experience designing, engineering and building custom timber frames, we can assure our clients that our frames are the best in the industry.
Residential Patio with a Timber Truss | Photo by Westall Architects
Have a Question?
Explore The Home | The Interior
The interior of the home shows off the decisions that were made early in the design process, like, which species of wood to use and the truss design. The beams in this home are Douglas Fir, and the trusses have a beautiful, large arches, which were constructed using glulaminated beams.
See The Process | Assembly & Raising
After a timber frame has been fabricated, our crew often travels to the job site to assemble and raise the frame. The same people who cut the frame do the assembly.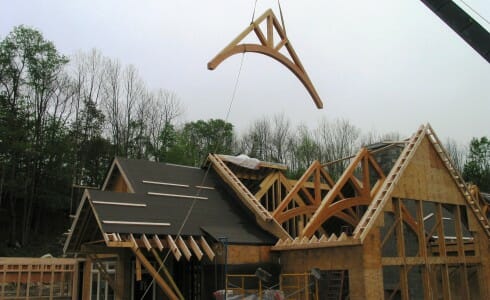 Flying Truss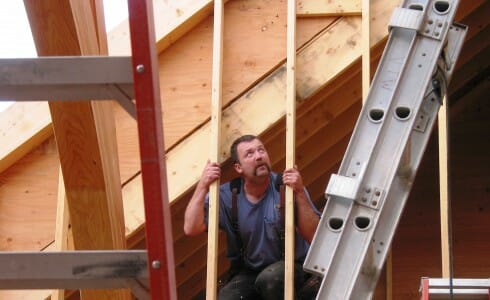 Truss Installation
MORE ABOUT ASSEMBLY & RAISING
Have a Question?