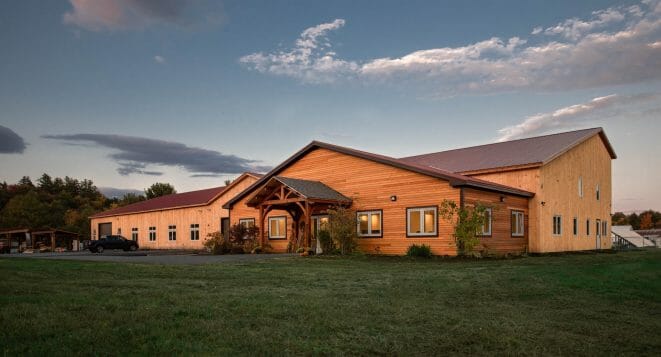 The Workshop at Vermont Timber Works
Vermont Timber Works is comprised of one workshop and office location at 16 Fairbanks Rd in North Springfield Vermont. We have been at this location for 17 years. After the original building suffered a fire in 2019, Vermont Timber Works rebuilt the building in the same location and reopened in 2020.
Our building is located in a small community of about 600 people. The building itself is about 16,000 square feet with a 3,000 square-foot office and 13,000 square-foot workshop. Our location also has a solar panel field that takes care of all our energy needs.
We try to be a part of our local community and make Vermont Timber Works a nice place to work.
If you've ever wanted to visit our workshop and see what it is like and how we cut our timber frames, we'd be happy to have you visit. For everyone that isn't able to visit, take a look at this page and get a feel for who we are, what we do, and what it's like fabricating timber frames in Vermont.
VTW Exterior
The exterior of the sales office is clad in Cedar and the workshop is clad in Pine. The entrance to our sales office features a timber framed entryway that survived the fire in 2019. We also have a loading dock for receiving shipments of wood from our suppliers.
Sales Office
The sales office lies beyond the main entrance and is home to our sales and marketing team.
Engineering Office
The engineering office is where plans and designs are made.
Break Room
Our break room is a sunny space for employees to have lunch and features a beautiful kitchen area.
Layout Room
The layout area is where the timbers are marked for cutting.
Assembly Room
The assembly room is where trusses are put together and then taken apart.
Staining Area
The staining area is where the timbers are sanded and stained.
Solar Field
The solar field behind our workshop powers our entire shop! All excess energy we generate is donated to local charities.