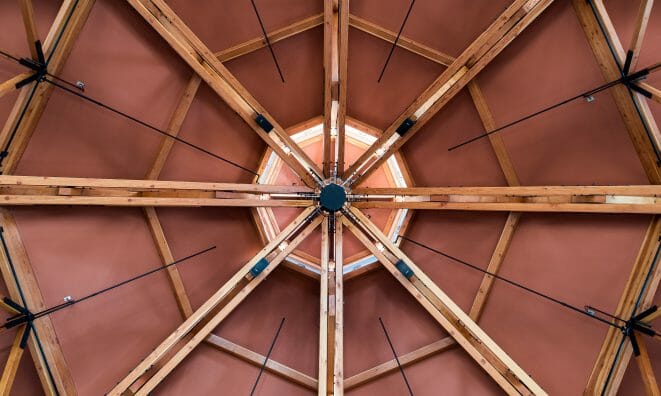 For Architects
We often work directly with our clients' architects to design timber frames that meet their requirements. Very often, we are brought into the design process early on, collaborating closely with our clients' architects to ensure that their vision is realized. As a standard service, we provide 3D  computer-generated models for everyone in the equation—client, architect, construction crew alike to review before fabrication.
Our engineering department is highly skilled, diligent and great at making challenging projects happen on time and with meticulous accuracy. They ensure that all state building codes are met and that the loads for each building are calculated based on the occupancy, use, and location of the structure. Such considerations include the self-weight of the timber, dead, live, snow (balanced, unbalanced and drifting) and, depending on the location, either wind or earthquake. Heavy timber commercial architecture work typically falls under division 06130, division 06170 or division 06180 and we are well-versed in providing all related paperwork.
Resources for Architects
Let us know if you need timber framing expertise on any upcoming projects. Call us at (802)886-1917 or contact us online today. We offer the highest quality timber frame product available, great customer service, consistent attention to detail and competitive bids.