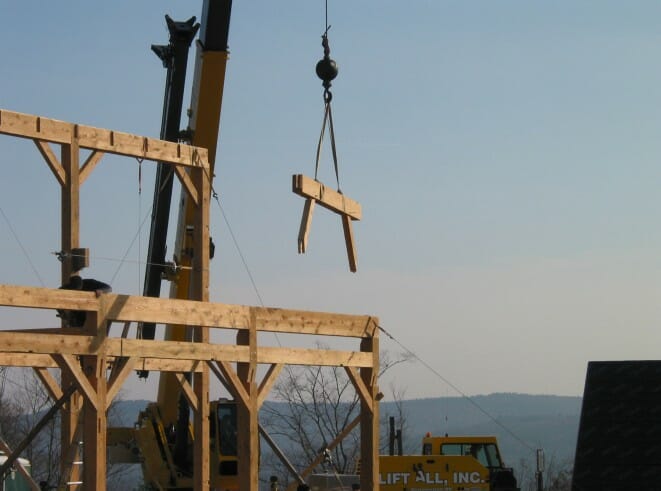 Our crew often travels to the job site to assemble and raise frames. The same craftspeople who cut the frame also put it up. Most of our post and beam frames can be erected in a matter of days.
We pre-assemble parts of the frame in our shop whenever possible. Then, once on site, we use large cranes to raise the frame. In less than a week, a timber frame can be complete and ready for a local contractor to finish.
The Assembly & Raising Process
Timbers are organized and packaged for shipment
Timbers are delivered to the job site
Bents are assembled and stacked
The crane arrives
The crane lifts the bents. They are connected and set
Between each bent that is set, the ridge is dropped into place and either purlins or rafters are installed
Scroll down the page to see the process and techniques we use to assemble and raise custom timber frames and check out this time lapse video of a timber frame barn raising. Check out the tools we use to raise a timber frame.
Assembling & Raising A Timber Frame
Have a Question?