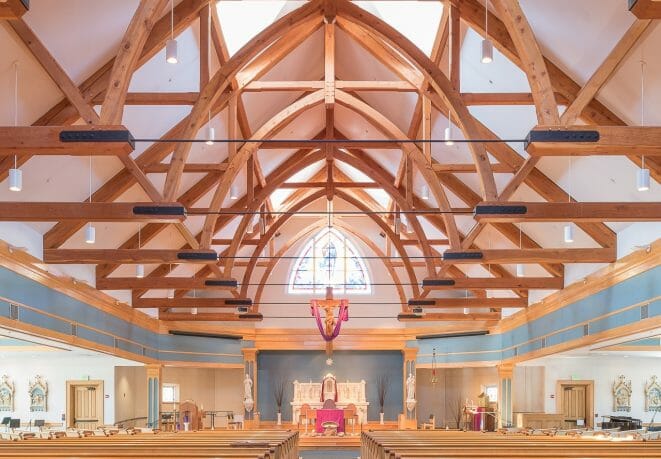 Build a Beautiful Church
For more than 30 years, Vermont Timber Works has had the privilege of handcrafting exquisite wooden beams for Churches and Chapels, which serve to accentuate the vertical lines that characterize houses of worship, helping to lead the eye, and spirit, upward. Church construction and historical reconstructions are one of our specialties at VTW, and we're proud of the work we've done for Church organizations in the past.
Work
with a Custom Shop
A Timber Frame Church or Chapel from Vermont Timber Works can help beautify and strengthen your place of worship.
Get Started
The Process
With sensitivity and an open, collaborative approach, we design and fabricate the most appropriate timber framing styles for each specific structure, keeping in mind its many potential uses and the variety of events that will take place therein. We will work with you and your congregation from concept, to design, to installation to bring your ideas and inspiration to life.
Churches & Chapels Portfolio
In addition to enhancing the atmosphere of the chapel itself, we make timber frames and beams that creatively augment vestibules, entrances, community rooms, and pergolas. No matter what the specifics, the result will be a timeless, handsome and extremely well-crafted architectural feature that will add spatial complexity to the building and inspire your congregation.