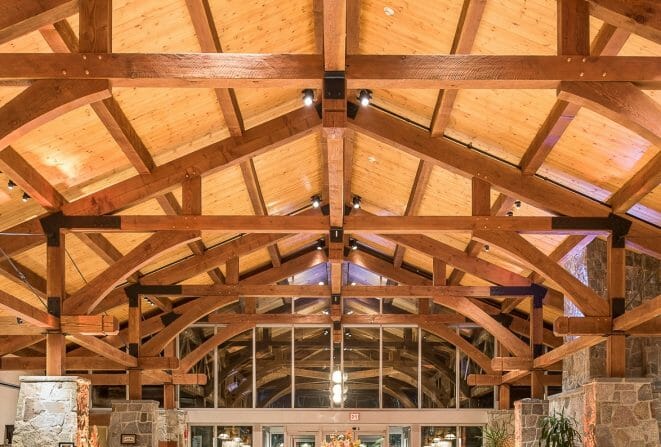 Timber Trusses
Vermont Timber Works designs heavy timber trusses for homes, businesses and commercial projects. Made from wooden beams joined together with wood pegs or steel joinery, timber trusses look great in hotels, entryways, and restaurants with cathedral and vaulted ceilings as well. Natural Wood Trusses enrich the rustic beauty of any space you can imagine. While all our trusses look decorative, most are structural and are designed to carry heavy roof loads. We use traditional mortise and tenon joinery held with hardwood pegs and decorative steel plate connections with heavy bolts.
Build
with a Custom Shop
With over thirty years experience fabricating Timber Frames, we can create trusses to suit whatever design you have in mind.
Get Started
Custom Truss Designs for Every Space and Structure
Timber Trusses are a beautiful and interesting design element to incorporate into new structures, and their design and aesthetics are crucial to the overall feeling and appearance of whatever space they inhabit. Designing your custom Wood Trusses is a creative process that considers not just the trusses, but the structure as a whole. From design to installation, we will communicate closely with you to ensure that the trusses we fabricate fit your building's style and space perfectly.
Timber Trusses
Our Trusses are a beautiful and striking addition to any space whether it be in a home, restaurant, hotel, or commercial location. We have 30 years of experience designing and fabricating custom Timber Trusses for a variety of spaces.