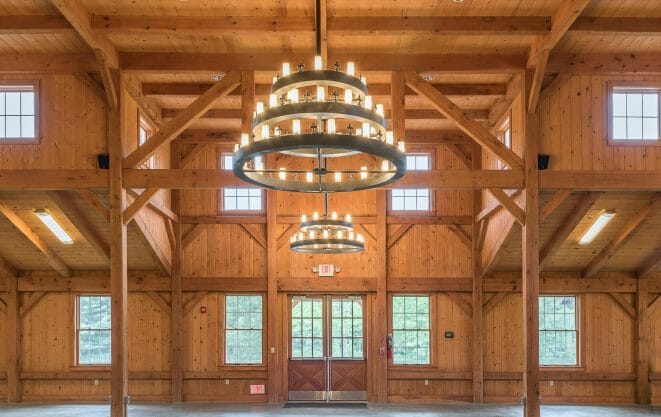 Build a Beautiful Dining Hall
Vermont Timber Works constructs beautiful heavy timber dining halls for a broad range of corporate, commercial, community, educational and public settings. Whether you are a developer in the hospitality industry, a civil engineer hired by a state or national park, or an architect working with a school district, if you need a solid, spacious and striking dining room, you have come to the right place.
Build
With a Custom Shop
Our warm-toned timber trusses are particularly suited to dining halls, because they lend an intimate, inviting feel to even large-scale rooms.
Get Started
The Process
With dramatic angles that draw the eye upward, post and beam timber frames not only create practical, roomy structures that can house hundreds of guests, they also serve as a delightful conversation piece. From start to finish, Vermont Timber Works will communicate and collaborate with you and your building partners on designing the perfect Timber Frame Dining Hall for your specific needs and purposes.
Dining Halls Portfolio
The handsome, rustic character of post and beam designs gives even brand new dining halls a wonderfully vintage aesthetic.
Here are just a few of the possible settings for heavy timber frame dining halls:
• Ski lodges, hotels, and resorts.
• Public and private campgrounds.
• Kids' summer camp facilities.
• Private social and athletic clubs.
• Golf courses and country clubs.
• Corporate campuses.
• Retirement communities.
• Community centers.
Look through our portfolio to see some of these examples.