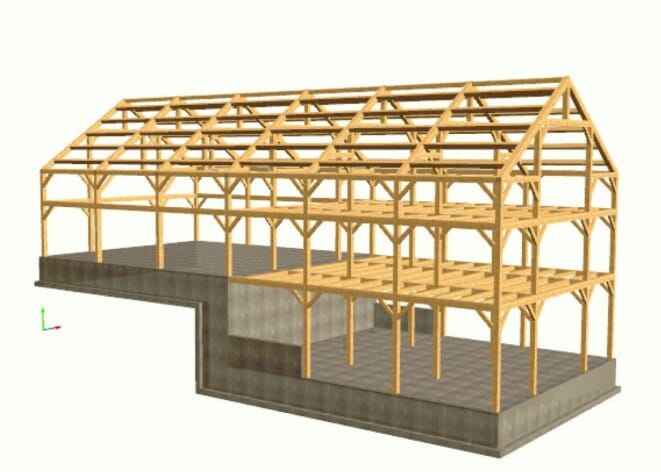 Our timber frame design process begins with our clients' ideas, then we make the idea work structurally, and then we add an elegant style to the design.
Timber frames are great to incorporate in a building design because they allow for open concept interiors, and the trusses are beautiful and can span great distances at lofty heights like ancient cathedrals
THE DESIGN PROCESS
It's similar for most projects. Here is how we do it:
Start with our clients' construction ideas.
Draw preliminary pencil sketches for review and pricing.
Create a 3d model that can be viewed from all directions.
Run engineering to ensure structural stability.
Receive final approval from our client.
Draw detailed 2d shop drawings.
Seal the shop drawings with a stamp from our structural engineering team.
3D MODELS
SHOP DRAWINGS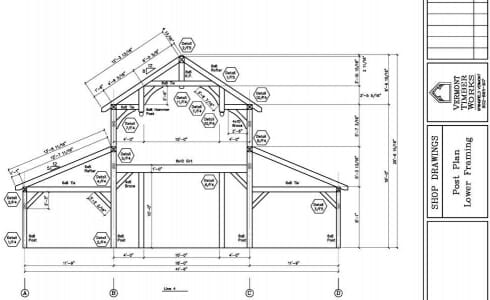 Detailed shop drawings are created prior to fabrication. First draft drawings are sent to the client for design review. Then, after they are revised according to the job specifications and get final approval, the drawings are sent to the shop to be used for fabrication.
SHOP DRAWINGS
These are the actual drawings that were used to fabricate the Deer Lake dining hall timber frame.
DEER LAKE DINING HALL
FINISHED TIMBER FRAMES
Have a Question?