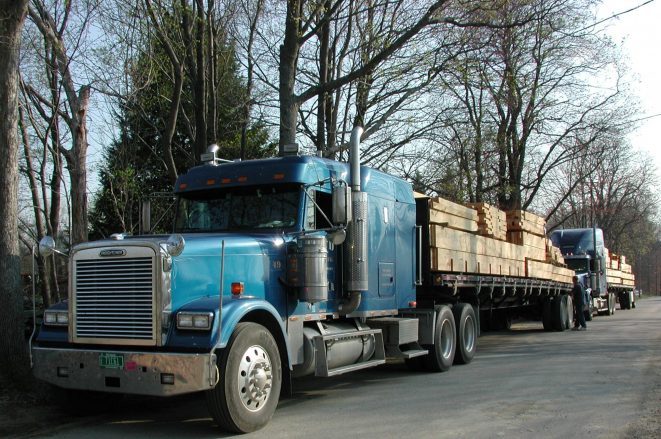 Having Your Timbers Delivered to the Job Site
Often times, people will request that our VTW team travels to the site with the timbers to erect the timber frame. This isn't a requirement, however, and if you have your own builder or contractor we are more than happy to ship you the timber frame disassembled. You can choose to have a VTW site supervisor there to guide your building team through the process, or you can have your builder do it all by themselves. If you chose to do it yourself or have your contractor do it, this page will go over how your timbers will be delivered, how they will be packaged upon arrival, and the best way to unpack them so that putting your frame together will be streamlined and efficient.
How Will Your Timbers Arrive?
Your Timber Frame will arrive disassembled, with the timbers wrapped in our VTW branded lumber wrap. The wrapping is to help protect the timber while in transit and to keep certain pieces together for easier assembly. The Timbers have been marked and grouped for easier assembly. To unload the truck, you will most likely need a forklift or a crane to assist you.
Once You Unwrap your Timber What's Next?
Once you unwrap the Timbers you'll see that they are all labeled. The Timbers are labeled according to their location within the frame so that you can look at each piece and know where it should go. We try to make this as simple and easy a process as possible, so if you have questions or find yourself confused about where a component should go, you can always call us and we'll be able to help.
If at any point you feel confused or unsure about your delivery, or the Timber components or how things are supposed to be fitting together, give us a call at 802-886-1917 and we will gladly assist you.