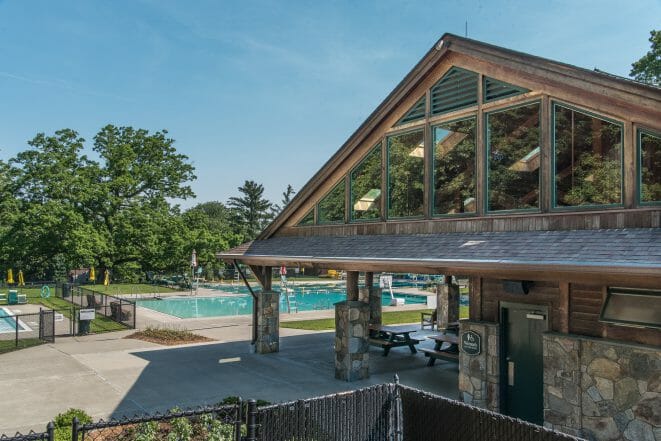 Vermont Timber Works constructed a timber frame bathhouse for a state park in Katonah, NY.
We worked with architect George Rosamond at Lothrop Associates Architects and Peter A. Camilli & Sons, Inc. on this project.
The Katonah features a picnic area that has high ceilings with timber trusses, and skylights and is open-air so that people can still see and enjoy the pool while sitting at tables and cooling off in the shade. The changing rooms and bathrooms feature beautiful wood beams throughout to give these areas the feeling of being at a spa. The bathhouse is a simple yet beautiful structure that allows visitors to enjoy the state park and the pool at Katonah even more.
All of our frames are handcrafted to meet exact project requirements, and we enjoy working with our clients to make sure the details – from design to finish – are just right.
If you like this timber frame or have timber work questions, we invite you to get in contact or ask an expert!
Have a Question?
Explore the Park
EXPLORE THE INTERIOR
It features douglas fir timber trusses and round wood columns. There is a natural UV protected finish applied to the douglas fir. The timbers are traditionally joined with hidden steel plates that provide extra structural support.
SEE THE PROCESS
The timber frame design process involves a series of sketches and review with the client and their architect — including a 3D model of the frame — until there is an approved final design. With the final design, detailed 2D shop drawings are created and used to fabricate the frame.
After a timber frame has been fabricated, our crew often travels to the job site to assemble and raise the frame. The same people who cut the frame do the assembly.
Have a Question?