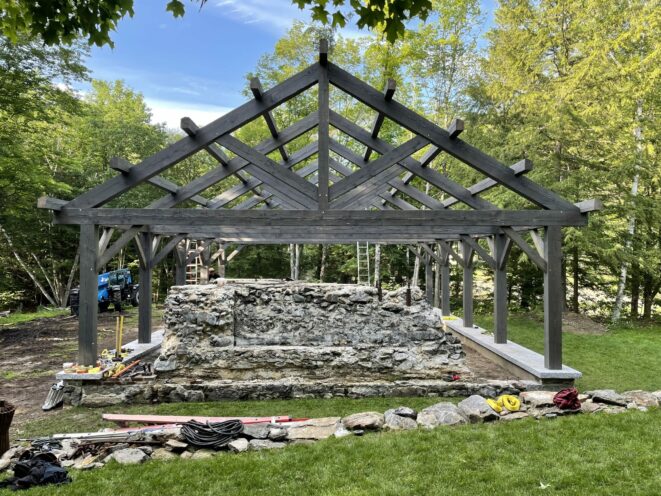 The Ash Pavilion was an interesting project that took the foundations from a historic milling site and incorporated a pavilion around the original foundation.
The foundation was originally part of the Woodstock Lumber Company Mill. The original site included a bridge, a boarding house, a company store, a stable, a log pond, and a variety of mill buildings. Many of these structures are long gone due to fire or time, but the foundations of some of the buildings are still there. The Ash Pavilion was built over one such foundation.
The original foundation was part of a building that was designed to hold a bandsaw for lumber milling purposes.
The client was interested in the historical significance of the site and wanted to build a place that would allow the site to be enjoyed.
This pavilion is on private property and is not open to the public, but nonetheless is a beautiful pavilion with a sense of history behind it.
Historical Photos of Woodstock Lumber Co.
Historical Website with the history of the area. 
The pavilion is made with Rough Sawn Douglas fir. It has been stained with Benjamin Moore Arborcoat Semi-transparent Westcott Navy 1624. The stain was chosen to give the pavilion that weathered gray wood look, and it achieves this nicely. Look here for more Stain Colors.
Have a Question?