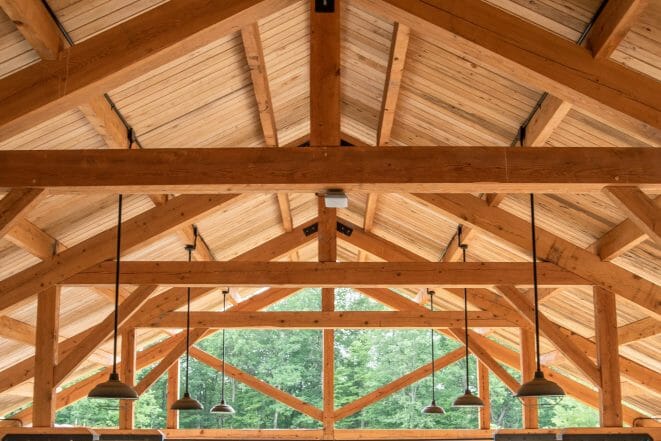 The Bechtel Summit in West Virginia is the home of the yearly National Scout Jamboree and will also host the 2019 World Scout Jamboree. The National Scout Jamboree hosts scouts from all over the country for scouting activities including leadership training, badge exchanges, and activities at the adventure camp located on site. The World Scout Jamboree hosts scouts from all over the world and promotes international unity among scouts. When not in use for the Jamboree, the expansive Summit is also a training, scouting, and adventure center for millions of youth and adults involved in Scouting.
Vermont Timber Works has been working on a variety of structures at Bechtel for BSA in West Virginia since 2017. From design to fabrication, VTW has enjoyed working with Bechtel to meet the exacting requirements and vision for each structure. VTW feels privileged to be able to add timber frame Pavilions to an already impressive and extensive facility.
At the Bechtel Summit, Vermont Timber Works has designed and fabricated a 40×68 Wood Pavilion, a 20×48 Pavilion, a 60×120 pavilion, as well as a Timber Frame Dining Hall. Many of these post and beam Pavilions are used as Picnic Pavilions, housing, storage, and event and activity venues for the Boy Scouts during their time at the Summit. Theses pavilions are incredibly versatile and can be used for any number of functions that might be needed. The Dining Hall can also be used in a variety of ways as it can hold a good number of scouts at one time.
Have a Question?
Tour The Structures at Bechtel Summit Reserve
Below are pictures of the Thomas G Pigott Dining Hall, the Alpha Bravo Dining Hall, the 60×120 Jack Link Pavilion, 40×68 Pavilions, and 20×48 Pavilions.
Thomas G Pigott Dining Hall
Alpha Bravo Dining Hall
60x120 Jack Link Pavilion
40x68 Pavilions
20x48 Pavilions