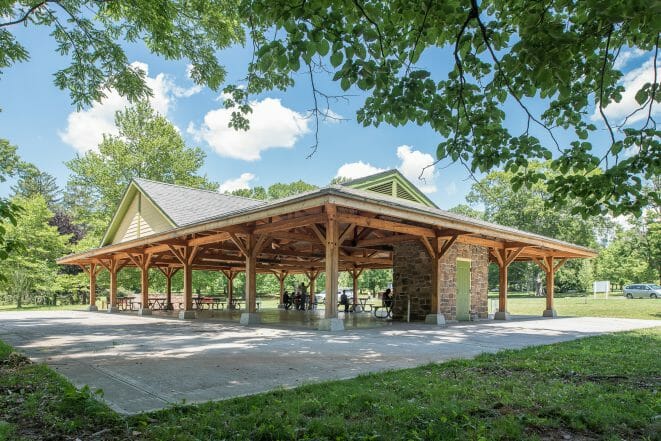 Cadwalader Park is the oldest park in state capitol Trenton, NJ. Vermont Timber Works built a pavilion timber frame for the park. Timber frames are well suited for park structures, because timber framing is a building method with a long history that makes use of a natural material – wood – to create an enduring product.
All of our frames are handcrafted to meet exact project requirements, and we enjoy working with our clients to make sure the details – from design to finish – are just right.
If you like this pavilion frame, or have timber work questions, we invite you to get in contact!
Have a Question?
Explore the Pavilion
EXPLORE THE ROUGH PAVILION
The completed frame shows off decisions that were made early in the process, like which species of wood to use and how to join the timber. This pavilion was constructed using planed and chamfered douglas fir timbers and 1" birch pegs. The trusses are traditionally joined and reinforced with steel plates.
SEE THE PROCESS - DRAWING & PLANNING
The timber frame design process involves a series of sketches and review with the client and their architect — including a 3D model of the frame — until there is an approved final design. With the final design, detailed 2D shop drawings are created and used to fabricate the frame.
Have a Question?