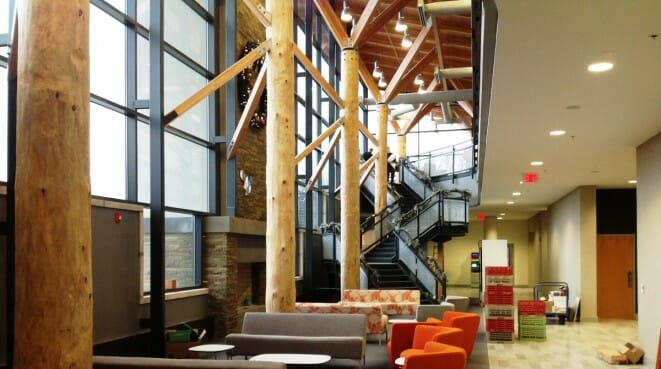 Nemacolin Woodlands Ski Lodge is in Farmington, PA. Vermont Timber Works constructed a glulam, douglas fir timber frame for the lodge.
We worked with general contractor Martik Brothers, Inc.,  DRS Architects, Engineer David R. Simpson from Allegheny Design Services, and 84 Lumber Company on this project.
All of our frames are handcrafted to meet exact project requirements and we enjoy working with our clients to make sure the details – from design to finish – are just right.
If you like this ski lodge timber frame, or have timber work questions, we invite you to get in contact or ask an expert!
Have a Question?
Testimonial
"In February of 2012 The Nemacolin Woodlands Resort experienced a devastating fire that destroyed their Ski Lodge, interrupting a critical activity at the resort. Nemacolin turned to DRS Architects, as a long time consultant, to immediately begin work to replace the old Lodge with a more ambitious, all-season attraction.
Vermont Timber Works made realizing a complex design possible despite the seemingly impossible deadlines imposed  by the opening of the following ski season. Despite these logistical challenges, VTW fit quickly and seamlessly within our tight-knit group of designers and builders. We all came to rely on their thoughtful problem solving and their matchless craftsmanship. The expertise VTW brought to the project was essential to the project's success and their dramatic achievement continues to delight all who visit the building." – Paul Cali, AIA
EXPLORE THE LODGE
The interior of the frame shows off decisions that were made early in the process, like the pole design. This frame was designed to have the poles resemble trees with the braces resembling branches. The timber is rough sawn and connected with steel.
SEE THE PROCESS - FABRICATION
The fabrication process involves layout, cutting, cleaning the timber, cutting the timber, sanding the timber, applying finish, and assembling trusses. It is all done at our shop in Vermont.
SEE THE PROCESS - ASSEMBLY & RAISING
After a timber frame has been fabricated, our crew often travels to the job site to assemble and raise the frame. The same people who cut the frame do the assembly.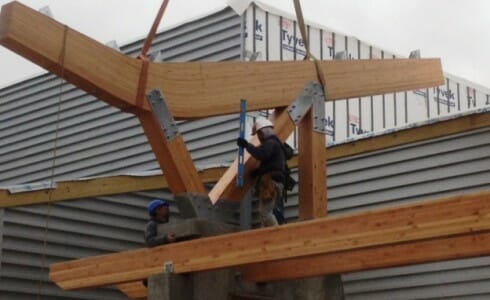 Assembly of the Glu Laminated Boomerang Beam for the Canopy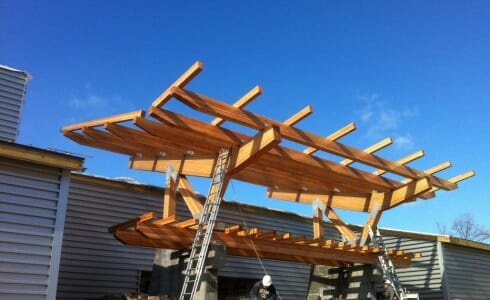 Completed Canopy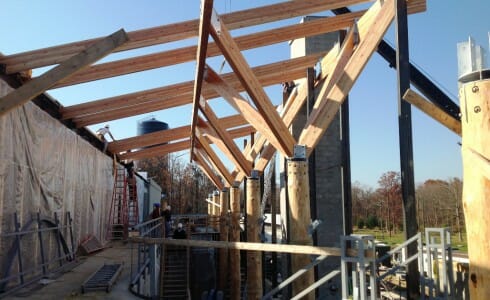 Wood Columns with Steel Joinery
More Ski Lodges
SEE THE PROCESS - DRAWING & PLANNING
The timber frame design process involves a series of sketches and review with the client and their architect — including a 3D model of the frame — until there is an approved final design. With the final design, detailed 2D shop drawings are created and used to fabricate the frame.
Have a Question?