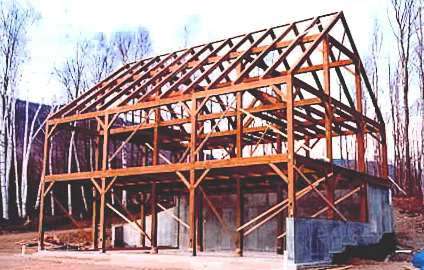 This is a hand crafted 34′ x 44′ timber frame barn in Dorset, VT. We worked with architect Michael Baker to design the frame.
All of our frames are handcrafted to meet exact project requirements, and we enjoy working with our clients to make sure the details – from design to finish – are just right.
If you like this timber frame barn, or have any timber work questions, we invite you to get in contact or ask an expert!
Have a Question?
SEE THE PROCESS | DRAWING, PLANNING, & RAISING
During the design process, we go through a series of sketches and review with the client and their architect — including a 3D model of the frame — until there is an approved final design. With the final design, we create detailed 2D shop drawings that are used to fabricate the frame.
After the frame has been fabricated, our crew often travels to the job site to assemble and raise the frame. The same people who cut the frame do the assembly.
Have a Question?