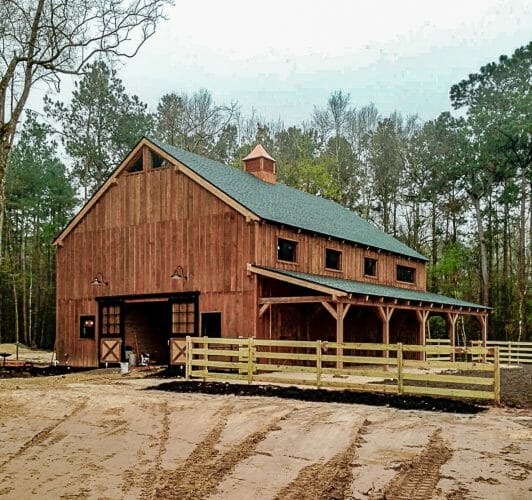 This beautiful horse barn is located in Robert, LA. It has 4 horse stalls, a tack room, and an L-shaped loft for storage.
The frame was constructed using mostly traditional joinery, but some of the joints are reinforced with steel.
The timber is rough sawn hemlock. It's treated with Golden Oak min wax stain. The stain is applied over a coat of Tim Bor, which is an insecticide treatment. Insecticide protects timber from destructive bugs and fungi.
The contract for the frame was signed at the end of July and the frame was delivered by the beginning of November.
Frame Specifications:
Board Footage: 13,752
Upper Roof Pitch: 9/12
Lower Roof Pitch: 3'-5 3/8"/12
Lower Rafter Plate Height: 9'
Upper Rafter Plate Height: 18'
All of our frames are handcrafted to meet exact project requirements and we enjoy working with our clients to make sure the details – from design to finish – are just right.
If you like this barn frame, or have any timber work questions, we invite you to get in contact or ask an expert!
Have a Question?
EXPLORE THE BARN INTERIOR
EXPLORE THE BARN EXTERIOR
Have a Question?