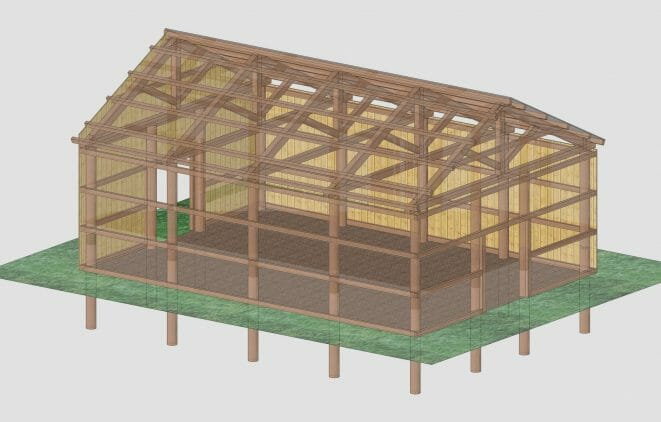 What is a Pole Barn?
A pole barn is a simple structure made from vertical poles that are sunk part way into the ground, wrapped with small beams to support siding and finished above with roof trusses and purlins.
When you google the phrase "Pole Barn" you're going to come across a wide assortment of images that to the casual observer, look like your average agricultural barn. Sometimes you'll see barns sided in metal, sometimes in wood. When you see images of the interiors of the barns sometimes the beams and posts are constructed of metal, sometimes of wood, and sometimes they are set on foundations but most of the time they're not. Just looking at images of pole barns will give you a wide breadth and probably not a clear understanding of what constitutes a pole barn exactly and how this type of barn might differ from a timber frame barn or a post and beam barn.
What Are Pole Barns Made of?
Pole Barns can be constructed from either wood or metal or a mixture of both. Pole barns were traditionally made from salvaged utility poles or other inexpensive round, wooden poles that were then sunk into the ground acting as the main support for the structure. Made of smaller pieces of wood, pole barns were economical and could be built quickly to meet demands for agricultural buildings such as storage barns and sheds.
The modern pole barn can still be made from conventionally sized pieces of wood, or they can be constructed with steel. One can argue the pros and cons of building a barn with steel or wood, but both are possible for the pole barn. What seems commonly marketed today is either a wooden pole frame with tin or metal roofing and siding or a full steel structure. However, there can be pole barns constructed entirely from wood. The materials used for the pole barn will also dictate its price, its possible function and its durability and maintenance requirements.
The wood species of the poles is similar to what you'd find on a telephone pole, either being a treated yellow pine, red pine, or maybe a treated Douglas fir. The exact species of wood would vary by region and by what company you bought your pole barn from. Depending on the company you might be able to request a specific species or you might not.
How Are Pole Barns Built?
Pole barns are built using what is called Post Frame Construction. This type of building relies on posts in the ground for structural support as opposed to walls. Like the timber frame barn and post and beam barn,  Post Frame structures have wide open spaces and high ceilings. By using poles to support the barn you're able to build barns that can be expansive without needing interior walls for support. This is also why some people chose to use Post Frame Construction for their homes as well, allowing them to use an open concept design and have large living areas unimpeded by walls.
Many companies who offer these types of barns offer them as kit packages that can either be erected by a contractor or a builder or by the client. Most of the companies that offer pole barns as kits will have certain models that they have prefabricated and are able to ship quickly. In this way, building a pole barn can be done quickly because you're not waiting for the barn to be custom fabricated. If you order something custom or that isn't prefabricated, you'll have to wait for your pole barn components to be ordered and fabricated.
The erection of a pole barn once the components arrive on the building site can also be a fast process depending on what you have in mind for the barn. Most pole barns do not require a foundation so you can save time and money not having to pour a concrete slab. However for larger steel barns, or if you'd like a foundation, you'd have to get that down before you can erect your barn.
The pole barn and Post Frame Building is a relatively simple building style that can be completed quickly and easily and doesn't require a highly skilled crew as timber framing does. The simplicity of the pole barn and that it can go almost anywhere is what makes it a quick build.
Are Pole Barns Durable and High Quality?
The pole barn and pole frame building is an economical construction method that will allow you to build large structures in a short amount of time. With regular maintenance, the pole barn will last for years whether it's made of wood or steel. It may not stand for a hundred years, but it will certainly last long enough for whatever intended use you had for it.
The maintenance required will vary based on the materials you chose for your barn. Unlike a timber frame barn, pole barns will need to be maintained specially to ensure that they stay standing straight, as they can start to lean as the ground they're buried in shifts over time. When you see a barn that's leaning or looks like it may topple over, that's because the poles inside are leaning as well.
As with any kind of structure, and because pole frame building technique is so versatile, the quality of the pole barn can vary based on the materials you chose and the builders and designers and company you decide to build with.
What are the Uses and Functions of a Pole Barn?
Pole barns can be used as storage barns for equipment or for livestock. They can be horse barns, event barns, retail or commercial spaces. Pole barns have been used as plane hangars, gyms, and recreation centers. The pole barn, like any barn, can serve as many functions as one can imagine for it. Some people even use pole barns as homes or as Barndominiums. Pole barns are an adaptable structure that can be designed and used for any number of purposes.
What is the Cost of a Pole Barn?
In comparison to the timber frame barn or the post and beam barn, typically the pole barn will have a lower overall cost. This is due to the ability of companies to quickly prefabricate pole barns, the simplicity of putting up a pole barn and not needing to hire skilled laborers, the lower cost of materials, and not needing a foundation. If you go with a steel pole barn instead of wood your costs will be a little higher.
Is a Pole Barn Right For You?
If you need a structure that can be built quickly and cheaply and that will fulfill a specific urgent need or purpose such as storage, or animal housing, then a pole barn may be a good solution. Before deciding to build any barn you should really think about function, design, and quality. If you're looking for a high-end structure that will stand the test of time and will increase the overall value and appeal of your property, then timber frame barn will be the ideal solution. However, a pole barn may be a good short term solution for storage or for sheltering animals.
You can find more Information on Timber Frame Barns Here. And for more information about the differences between the Timber Frame Barn and the Pole Barn, you can read our Post here.