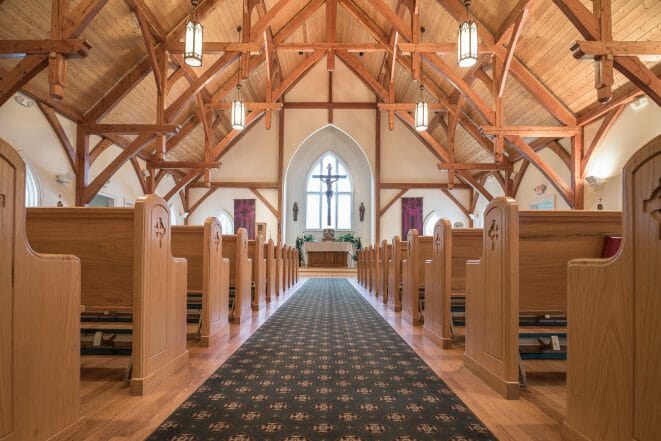 Frequently Asked Questions About Churches
Can we only order Heavy Timber Trusses for our Chapel/Church/Temple?
Yes. We can custom design trusses for a new structure or an existing one whether you need them to be structural or purely decorative.
Will Vermont Timber Work with our Contractor/Architect/Designer?
Yes. We pride ourselves on our great working relationships with other builders and designers. We'd be happy to work with whoever you've chosen to be a part of the building and design team.
How long will you hold pricing for our Church project?
Due to the volatility of the lumber market, we are only able to hold pricing for 30 days. We understand that when dealing with communities and getting project approval from a large team may require more time than that. We're always happy to reprice a project and to due our best to find solutions to keep costs within your budget.
Will you do a custom design for our Chapel/Temple/Worship space?
Yes. Everything we do at Vermont Timber Works is custom, and we'd be happy to custom design you a timber frame for your sacred space.
We already have an existing church structure that needs renovation/repairs. Can you work with this?
Our scope is limited to the timber frame/roof system of the structure. So it would depend on the extent of repairs.
Does Vermont Timber Works Offer Financing?
No, Vermont Timber Works does not offer any kind of financing.
If we already have an existing structure and want to renovate while keeping the church historically accurate, can you accommodate that as well?
Vermont Timber Works has worked on historical Church and Chapel projects that required keeping the modifications to the structure historically accurate and appropriate. We are happy and able to accommodate this request to the best of our ability.
Does Vermont Timber Works work with non-profit organizations?
Yes, Vermont Timber Works has worked with many non-profit organizations over the course of our careers.