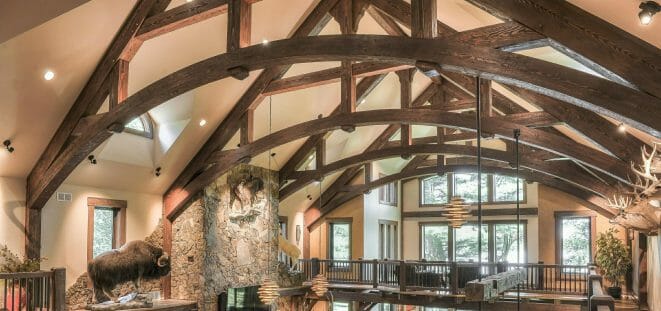 Frequently Asked Questions About Trusses
Am I able to only purchase trusses instead of a whole timber frame structure?
Yes! Clients will often have us fabricate custom trusses to enrich a space or to give a certain aesthetic to a structure.  We can fabricate trusses whether they are intended for structural support or will be purely decorative.
Can I order decorative trusses that are non-structural?
Yes! We are happy to design and fabricate trusses to your specifications even if the trusses will be decorative only. In fact, this is oftentimes a more economical way to get the look of a timber frame in a conventionally framed structure.
Will you ship trusses to me?
We will ship trusses anywhere in the country as well as internationally. The only thing to consider is shipping costs associated with shipping the trusses to your location from our workshop in Vermont.
How long will it take to fabricate and ship trusses?
After we've submitted our quote to you and you have approved it, it can take anywhere from 10-16 weeks for us to receive materials, fabricate the trusses, and ship them out to you.
Can I put up trusses myself or do I need to hire a contractor?
If you feel confident enough to put up the trusses yourself, you can most definitely do so. It is not necessary to hire a contractor if you don't want to, however, this is the route that most people go.
Do you sell faux beams or trusses?
When people ask for "Faux" beams and trusses, usually what they are envisioning is hollow pieces of wood or foam that have been made to look like beams and trusses. They are generally lightweight and inexpensive. While an interesting solution for some, we prefer the look and quality of heavy timber trusses and beams, and will not fabricate anything that could be considered "faux."
What Truss Styles does Vermont Timber Works Make?
Vermont Timber Works can accommodate any Truss style you may have in mind. This might include the king truss, queen truss, girder truss, scissor truss, hammer beam truss, or any modified versions of those. You can read more about truss styles on our Timber Trusses Page.
Will you design the trusses and truss system for my project?
Due to our workload, we are unable to take on any design/engineering work unless we will also be fabricating the trusses. So as long as you want us to fabricate the trusses for your project, we will be happy to make sure they are designed to fit the specifications of your project and your structure.
Do you sell truss drawings/plans?
Unfortunately, due to our workload, we are unable to take on any design work unless we will also be fabricating the trusses. We like to build what we design.
Can you custom design trusses for my home?
Yes! If you have plans for your home or building or can give us some basic dimensions and other information, we can design trusses that will look great in the space.
Can I request a specific style of Truss like the scissor truss?
Definitely. All our work is completely custom, so any truss can be fabricated to your exact requirements. You can choose any style of truss you'd like and we'll be happy to accommodate.
How much do Trusses cost?
This can vary based on truss style and size, as well as species of wood used and whether the trusses will be structural or decorative. If you choose a more complicated truss design like the hammer beam truss or the scissor truss as opposed to a simpler design like the king truss, your overall costs will be higher due to design, labor, and materials.
What wood species can trusses be made with?
Sometimes this will depend on the structural requirements of the trusses, but often you can choose between douglas fir, hemlock, oak, or pine. You can read more about wood species on our wood species page.
What finishes or wood textures do you offer for your trusses?
We offer a variety of finishes and texture options for our trusses. You can choose from Planed and Chamfered, Rough Sawn, Semi Sanded, Hand Hewn, or Weathered. You can learn more about wood finished on our wood textures page.
Can I request steel plates in my truss design?
Absolutely. We can incorporate steel plate onto our trusses whether they're structurally necessary or purely decorative.
Can I only buy the steel plates, brackets, or tie rods I see on your trusses?
We don't keep any steel plates/brackets/tie rods on hand or "in stock." And unfortunately, due to our workload, we don't have the capacity to provide any custom steel fabrication unless we will also be fabricating your Trusses as well. If you're only looking for steel work, contacting a local steel fabricator near you would be a good place to start.
Can I order 2×4 Trusses?
We specialize in Heavy Timber Construction and 2×4 construction is not within our scope of work.
If I don't want my house to be timber framed, can I purchase trusses to give the home the appearance of being timber framed?
Yes. People often use what we call a "hybrid frame" design that incorporates trusses, or timber framing in specific areas while the majority of the structure is conventionally framed. You can also conventionally frame a house and incorporate timber trusses in a great room that can be structural or decorative.
In what kind of structures can you incorporate Timber Trusses?
Timber trusses can be used in any number of structures and building plans. This includes houses, barns, churches, pavilions, pool houses, ski lodges, hotels, and restaurants.
What kind of information do I need to provide to get a quote for trusses for my project?
The more information about your project you can give the more accurate of a quote we can give you. Looking over the plans for the building would be ideal, but if you don't have plans giving us the size of the trusses, the desired span, the style of truss, the wood species you'd like and how the wood will be finished, will also give us a better idea of what exactly your trusses entail. This will allow you to give us the most accurate estimate possible.
Will you work with my architect or builder to design and fabricate my trusses?
Yes. We have a good working relationship with many architects and building partners and will be happy to work closely with any other company or building professional you chose to be apart of your project.