The Robinson Residence is in Lake Charles, LA. Vermont Timber Works provided a beautiful timber frame constructed with douglas fir timber and 1" semi sanded birch pegs for this residential client. The frame has a complicated roof system with many pitches that use massive wood beams.
We worked with architect Curtis H. Vincent on this project.
All of our frames are handcrafted to meet exact project requirements, and we enjoy working with our clients to make sure the details – from design to finish – are just right.
With over 26 years of experience designing, engineering and building custom timber frames, we can assure our clients that our frames are the best in the industry.
If you like this timber frame home, or have timber work questions, we encourage you to get in contact or ask an expert!
Have a Question?
EXPLORE THE FRAME
The client for this project is an interior designer so the truss beams were uniquely stained different colors to her taste.
SEE THE PROCESS - SHIPPING & ASSEMBLY
After a timber frame has been fabricated in our Vermont shop, our crew often travels to the job site to assemble and raise the frame. The same people who cut the frame do the assembly.
SEE THE PROCESS - DRAWING & PLANNING
The timber frame design process involves a series of sketches and review with the client and their architect — including a 3D model of the frame — until there is an approved final design. With the final design, detailed 2D shop drawings are created and used to fabricate the frame.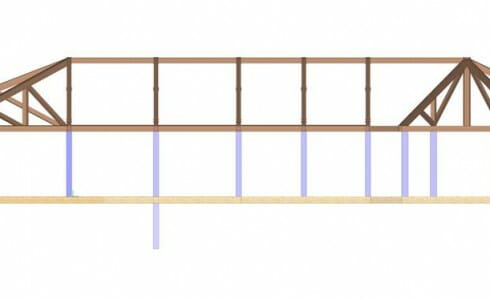 Side Elevation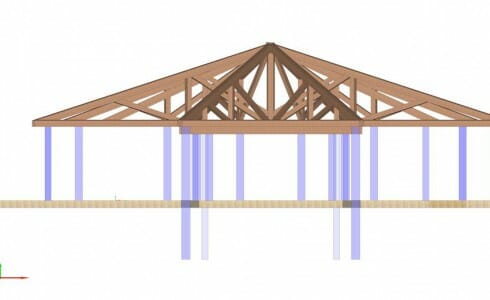 Front Elevation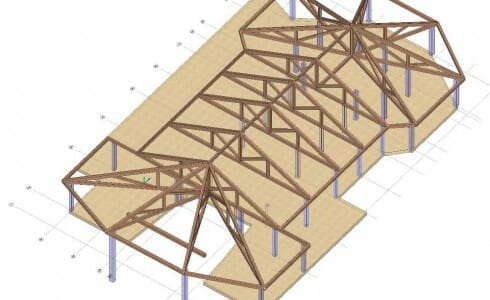 Frame Layout
More Homes
Have a Question?