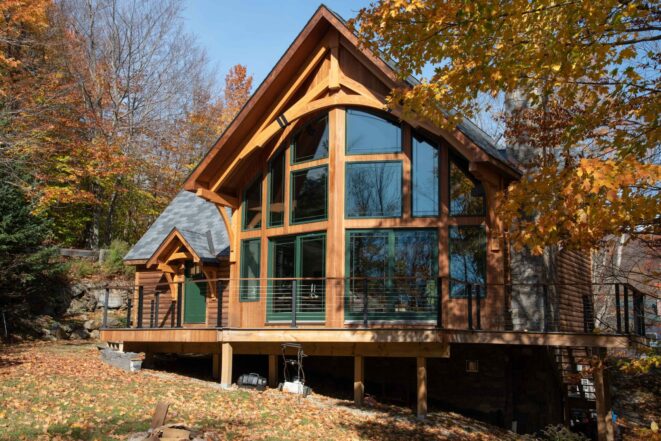 Vermont Timber Works provided three different style decorative trusses for the exterior of this Ski House in Killington, Vermont.
These heavy timber trusses were designed to be purely decorative only and are not structural.
The Gable Truss on the front of the home above the large front window features planed and chamfered Doug fir and four black steel bands. This truss was an interesting and unique design but fits the location on the exterior of the home well.
The side entrance canopy, which is pictured to the left of the front Gable Truss, features a more traditional-looking truss, but still mimics the neighboring gable truss with its curved arch.
The Trusses provided for the Back Gable Truss and the Back Entrance Canopy are different than the trusses at the front of the house, but they maintain a similar arched design.
Providing three different style trusses for one home was an interesting design choice, but it works with the overall concept and look of the home.
FRONT GABLE TRUSS
SIDE ENTRANCE CANOPY
BACK ENTRANCE CANOPY
BACK GABLE TRUSS