Night Pasture Farm is in Chelsea, VT. Vermont Timber Works provided the timber frame for this home.
We worked closely with Bonin Architects & Associates, PLLC and the client on this project to get every single design detail just right. They had an amazing vision, and we're proud to have done our part to make it happen!
With over 26 years of experience designing, engineering and building custom timber frames, we can assure our clients that our frames are the best in the industry.
If you like this timber frame home, or have timber work questions, we invite you to get in contact or ask an expert! Photos by John Whession
Have a Question?
Explore The Home - The Interior
The frame has unique structural and decorative touches including cherry wood keys and steel straps. In the center of the home, there is a great stone fireplace that douglas fir beams are fit into.
Explore The Home - The Exterior
The exterior of the home features arched support timbers and canted posts. The home is located on a mountain looking out over a valley. Location is one important thing to think about when designing a timber frame. Building codes vary by location. The structure needs to be able to stand strong against wind and snow loads.
See The Process - Assembly & Raising
After a timber frame has been fabricated in our Vermont shop, our crew often travels to the job site to assemble and raise the frame. The same people who cut the frame do the assembly.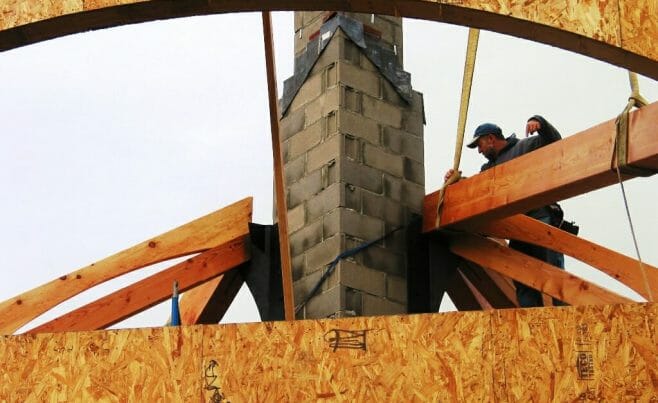 Doug Setting A Ceiling Beam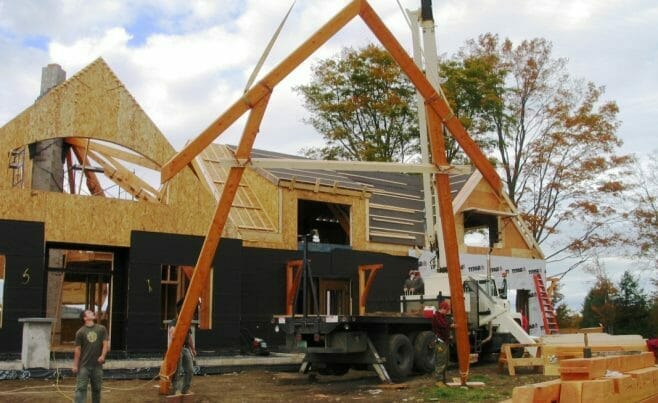 Crane Raising A Truss
More Homes
Have a Question?