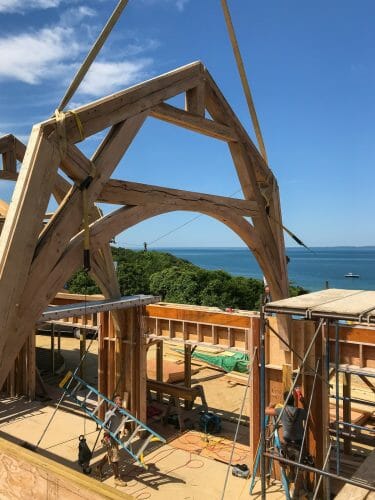 The Seven Gates Residence is a high-end residential project Vermont Timber Works did on Martha's Vineyard for an internationally known client. We worked with architect Thierry W Despont, and contractor Rick Serpa from Serpa Construction. The Timber Frame features Resawn Reclaimed White Oak and utilizes traditional joinery.
The Timber Frame in the home incorporates a Hammer Beam style truss that was custom designed specifically for the residence. This truss style is distinctive, and this variation of the style is less commonly seen, making this home especially distinct and unique.
The custom hammer beam truss style features the vintage Oak in a way that feels classic and timeless while evoking an old world feel in the great room of the home.
Have a Question?
Raising the Seven Gates Residence Trusses