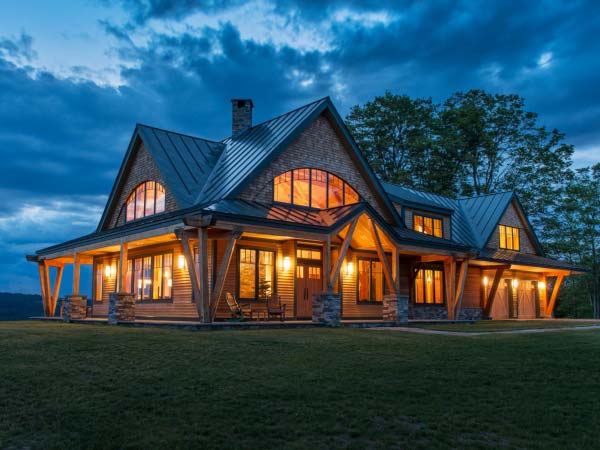 Timber Frame
[def.] n. A Timber Frame is a time-honored building method that uses heavy timber beams and traditional joinery to produce a wooden structure that is durable, elegant, and sustainable.
Learn More
Design a Timber Frame
Vermont Timber Works creates handcrafted timber frames in Vermont. Every Timber Frame we construct is designed in-house and handmade by our experienced craftspeople to the exact specifications of our clients. Bring us your ideas, and we will help you build a Timber Frame that will be enjoyed for generations.
Testimonials
"The beautiful work done by Vermont Timber Works remains evident. Everyone who enters is completely speechless. "
-Todd Kaercher
Kaercher Garage Brewery
"Vermont Timber Works fit quickly and seamlessly within our tight-knit group of designers and builders."
-Paul Cali, AIA
Nemacolin Woodlands Ski Lodge
"I just want your team, from design on down to assembly crew, to know how much we enjoy our new building and appreciate the great work you did for us."
-Bill Whyte, CEO & Head Badger
Badger Balm Factory
"We approached VTW to build a very unique glulam structural frame. The support throughout the design and fabrication phases was unparalleled. The trusses were delivered assembled which made for a smooth and precision installation. The final product has become the architectural jewel for the new owners business."
-Jeff Demers
Senior Design Associate
Q&A
Ask The Experts!
From engineering and design, to production of your custom built timber frame, our team of experts is glad to help.
FAQs
Portfolio
Timber Frames Handcrafted in Vermont