What Are the Tension Requirements for a 40 foot Hammer Truss?
Asked by Joe on April 13, 2018
I have a 40 foot open span hammer truss using a collar beam and queen posts design. wood will be east texas pine (green). i am concerned about tension requirements, should i add cables?
Do you engineer designs that you do not build and install?
Answered by Caitlin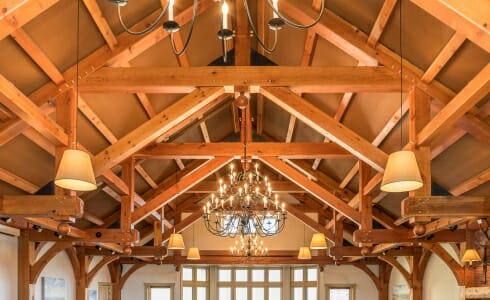 Hi Joe, thank you for your question.
There are a lot of variables that go into this answer, so unfortunately it is not a straight yes or no. However, I have a few guidelines that I typically use when designing that will hopefully help.
Nearly every hammer-beam truss that we create has some steel located throughout it, either hidden in the webs and king post or as a tie rod along the bottom. Even if you live in a place without significant snow loads, I would expect that steel is needed for a 40' span, especially if you are going to use the southern pine.
Ultimately it depends on what you like architecturally. If you are open to a tie-rod along the bottom, that will give you the best cost value, as it keeps all the timber sizes significantly smaller. If you are interested in only seeing the timber, you could lay in steel straps along the hammer-beams and tie, but that is putting significant stress into your top chords, so they will need to be quiet large to take that load.
Hope this helped!
Sincerely,
Matthew McGinnis