Where Does The Insulation Go in a Timber Frame Garage?
Asked by Shannon on November 17, 2017
My name is Shannon and I am just a house designer/draftsperson in Stony Plain, Alberta, Canada. I found your blog while I was researching glulam beam construction and details. I also have an interest in timber frame housing as it is my favourite and I hope to own one someday! Unfortunately they are not as popular here as they should be because it is so expensive to build in Alberta now.
I took on a small garage drafting job thinking it would be easy but then the clients sent me a picture of what they wanted for their garage! It is beautiful but obviously done by an architect in the united states. I was wondering if I could ask your assistance on the photo! They want a triple car garage with a vaulted ceiling inside. The picture they sent me is obviously an open wood truss design on glulam beams. What I don't understand is where the insulation goes in that picture! I have researched timber detailing here in Alberta so I have an idea how they do it here.
I have never designed a timber framed house before. My main question is how big do the trusses have to be? I think they are about 14 to 18″ tall but I can't find any info on them here in our Canadian wood construction associations.
Can you take a look at the pictures and give me some suggestions. I would greatly appreciate any assistance! It will be sent to an engineer here to design and stamp the drawings anyways but I would like to have it drawn mostly accurately and I don't know any truss designers around here that would be experienced like you are!
I have attached two pdf's. Let me know if you receive them.
Thanks again,
Shannon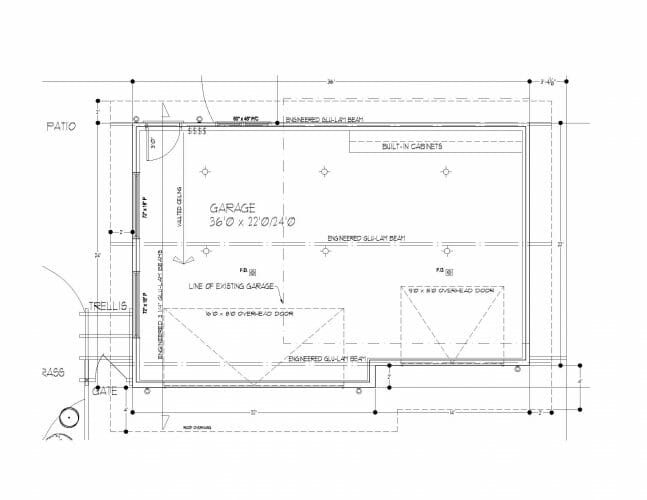 Answered by Caitlin
Hello Shannon, my name is Matt McGinnis. I took over the role of engineering at VTW last spring.
Unfortunately I only received a single attachment – a plan view of the garage showing the 24'x36′ plan and highlighting three glulam beams.
In regards to your questions:
A common way to insulate timber frames is with SIPs (structural insulated panels). They are typically three layers, containing various thicknesses of foam insulation with OSB sheathing on top and bottom, with optional drywall sheathing on the indoor face. They are a very efficient way to insulate a structure, creating an air-tight building envelope. SIPs can also be used to resist lateral loads, requiring less bracing and decreasing member sizes in the main frame. More information can be found on our website, with a helpful diagram of a typical insulating detail:
https://www.vermonttimberworks.com/learn/architects/wall-roof-systems/
The size of the trusses is a more difficult question to answer, as there are many variables that can factor into the design. The snow load, roof pitch, wood species/grade, and truss spacing all effect member sizes. There are also many truss types to choose from, depending on the span and what the client likes aesthetically. 24′ is not a far span, especially for glulams, as they can be nearly any size/depth required. I would be surprised if you need a depth of 14-18″ for any truss member: if you run a series of four trusses spaced 9'0″ o.c. I bet you could use 5.5″ wide material, with depths around 9″-11″+.
I do not think I can be much more help without knowing more about the project, but if you have any more questions please feel free to ask!
Thank you,
Matt McGinnis