Will a Hammer Beam Support a Span of 40 Feet ?
Asked by Lance on January 25, 2018
Will a hammer beam support a span of 40 feet ?
Answered by Caitlin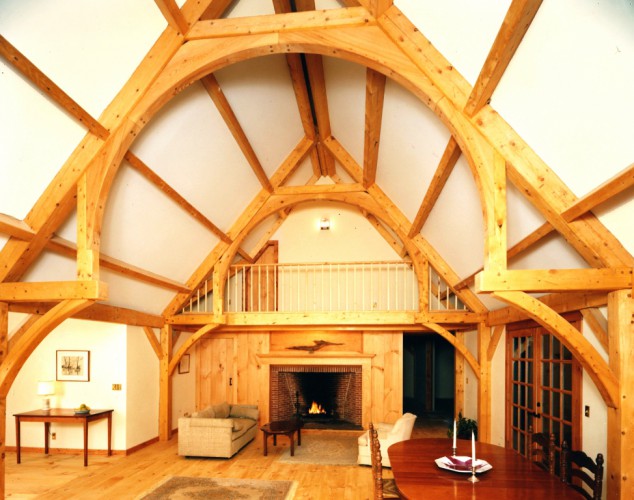 Hello Lance, thank you for your question.
A 40′ span with a hammer-beam truss is certainly a possibility. There are a lot of variables that can sway my answer in either the yes or no direction, especially the geography of the site (snow loads?), the tributary width each truss is supporting, and the species of timber used.
Hammer-beam trusses tend to have significant lateral forces pushing outwards along the bottom, which is why medieval churches have such large buttressing elements on their exteriors. This problem requires buttressing within the structure itself, or a steel tie across the bottom of the truss that can take the tension load. The 40′ span is much more plausible if the steel tie is an option.
The Von Trapp Lodge is a great example of a (modified) hammer-beam truss with hidden steel along the diagonal webs. It has a roughly 32′ span, and is designed to withstand significant snow loads in the Green Mountains of VT. You can see the frame on our website, here: https://www.vermonttimberworks.com/our-work/heavytimber-construction/hotels/trapp-family-lodge/
Unfortunately, I cannot give you a definitive yes or no to your question as there are so many variables. If you would like to learn more, please contact our sales department at (802)-886-1917 and they can talk through your design and help answer some of those questions.
Hopefully this helps!
Sincerely,
Matthew McGinnis