Before I started selling timber frames, I wouldn't have known where, or how to approach the subject of wanting to build this type of structure.  I'd seen all kinds of timber framed buildings, and had always loved the look, but had no idea how the process worked .  I had no idea what the proper terms were for the components of the craft, let alone the types of joinery or the difference between purlins and rafters, sheer plates or post connection details.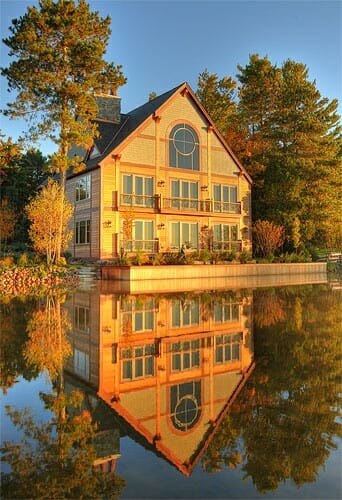 Now that I dedicate myself to the trade every day, I find that there are many others out there who really don't know where to get started.  Some of the basic questions are as such:
Who do I call?  Where do I look?  What does it entail?  Do I need an architect?  Do I have to have plans for my building? How much more does it cost than a conventionally framed house?  How long does it take? (Just to name a few)…
Let me try and brief you…a little "Timber Framing 101", if you will…In a nutshell.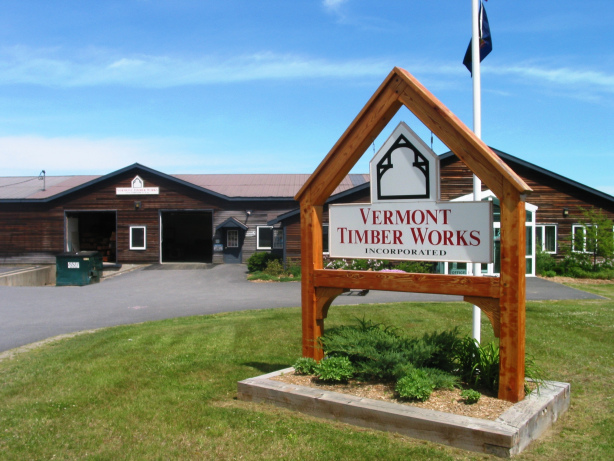 Of course I'd like to tell you that you would start by calling Vermont Timber Works, a quality, high end timber framing company for over 27 years.  If there is a question about the trade, we can answer it, and if we can't, chances are we know somebody who can!  Although Vermont Timber Works provides frames all across the country, and sometimes internationally, we understand that we may not be the best fit for your project.  Location is key.
There is also a difference between a custom timber frame and a "kit" timber frame.  Kits are pre-manufactured buildings, cookie cutter type houses/barns/sheds, that come with all the trimmings and provide a finished product.  A custom timber frame from Vermont Timber Works is exactly what it says…a custom timber FRAME.  The finishing touches are up to you.  We provide the skeleton for the building.  Any 2x, overbuild, or conventional framing materials would be purchased separately through a local lumber supplier or through a general contractor.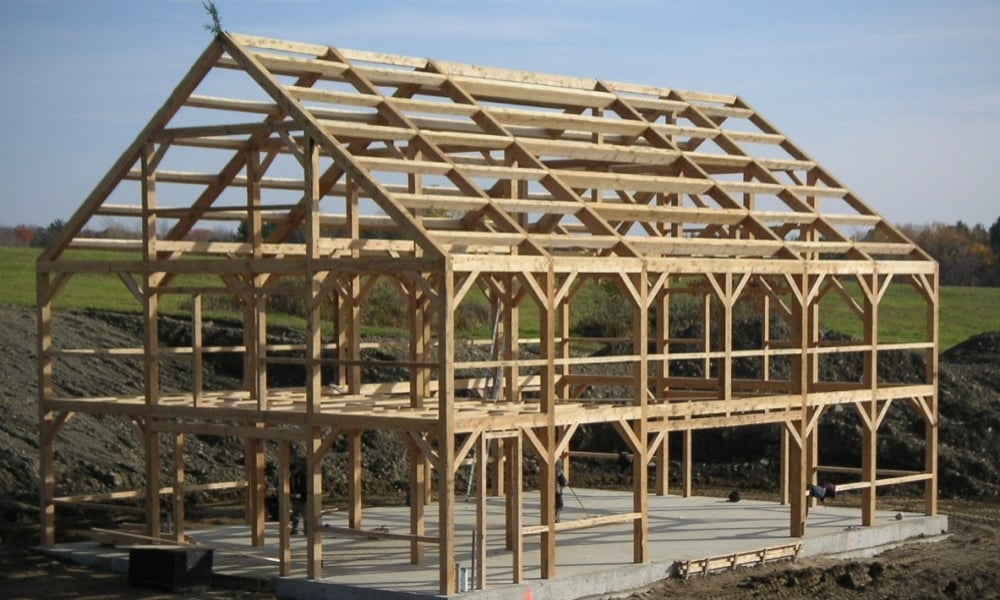 (This picture is a good example of the type of "bare bones" structure that we provide.)
Having an architect is helpful in many ways, and if you do have drawings and plans for your home, it does make the process a little easier in every direction, but it is NOT necessary.  Vermont Timber Works has a team of experts, comprised of an estimator, an engineer, and several other members who have been in this business for many years, and can take a concept and make it a reality, without the help of a drawing board….so to speak.  Occasionally, we receive "drawings" that look like an experiment carried out over lunch, with a paper napkin and the crayons provided by the establishment.  But if we can make sense of it, why not?
Once the basic dimensions are thought through, and the layout of the building has been determined, we can design a frame to suit the most individual of tastes and needs.  Our engineer will make sure the structure is sufficient before we quote it, and we guarantee it's stability.  The species of the wood will have been decided on at this point, to make sure the timber sizes are adequate for the strength of the frame.  Wood species is determined by the aesthetic desired by the buyer, strength, durability, weather factors, etc.  Some species are better equipped to hold up to the elements if used in an exterior project, such as Western Red Cedar and Douglas Fir.
https://www.vermonttimberworks.com/learn/wood-finishes/       (Follow this link to the wood species and finishes page on our website)
Now it's time to enter into an agreement and to obtain a minimal deposit to proceed with the job.  Once the agreement has been made, we start the shop drawing process.  The engineer will create a 2-dimensional set of drawings that will show exactly what will be used for the frame, dimensions, timber sizes, etc.  These drawings, once approved by the buyer, will allow us to place the material order and for the artisans in our shop to cut each piece according to the design.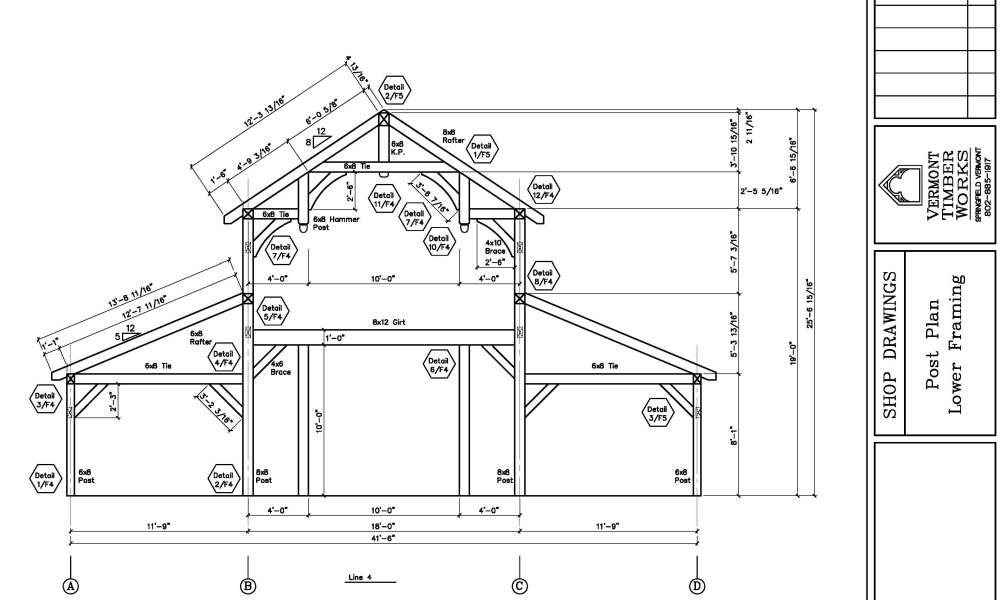 Typically, this entire process, from agreement to delivery of the frame takes about 3 months.  Sometimes sooner, sometimes longer…depending on the details and our schedule.  Once the timbers have been cut and are ready to ship, we pre-fit everything here at our shop to ensure a smooth erection process, whether by our crew or by the contractor of choice.  That option is entirely up to the client.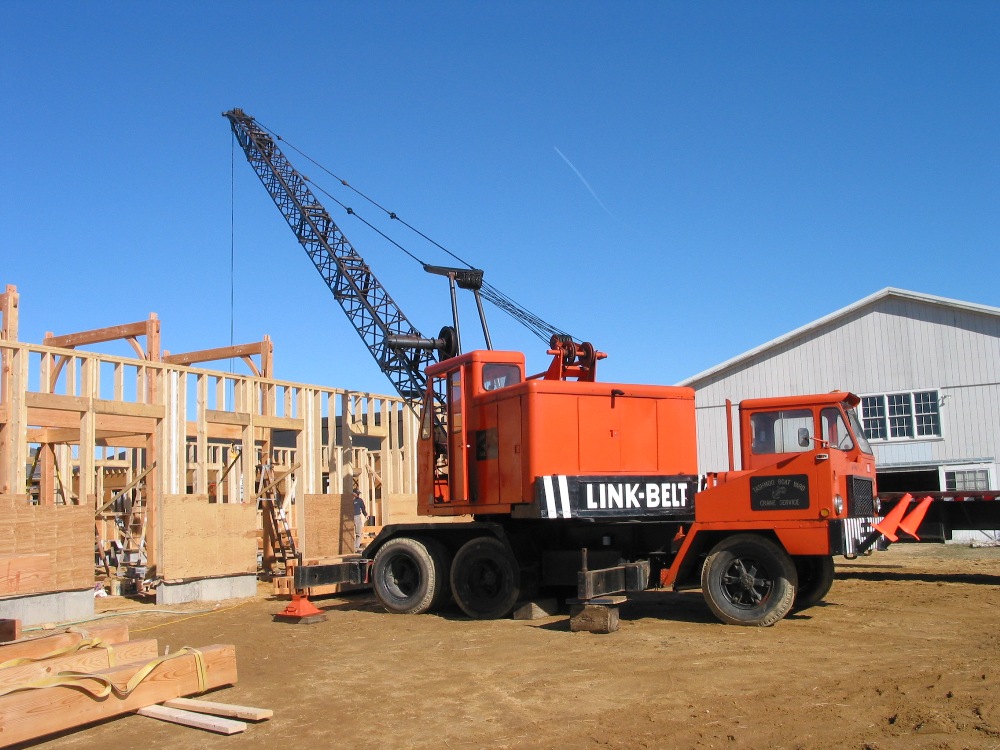 Yes, a timber frame does cost more money than a conventionally built home, but it's a whole different animal all together.  One wouldn't expect to pay the same amount for a Kia that they would pay for a Lexus, would they?  And yes, that was a dramatization, but I think it makes a good point!
Needless to say, there are many questions that I haven't covered, or answered, but don't let that stop you from inquiring about anything you'd like to know about our trade.  We are always happy to provide assistance and informative options to those who want to know more about timber framing.  Our job is to make sure that you get exactly what you want, and that you are happy with the end result.
There are no stupid questions, but if you get a stupid answer, you may drop it in a bottle and float it to our complaint department..  (Kidding, of course!)
Thank you for stopping by our timber framer's blog! If you have a timber frame project in mind, or any timber work questions, we encourage you to get in contact, ask an expert, or share your thoughts in the comment section below.