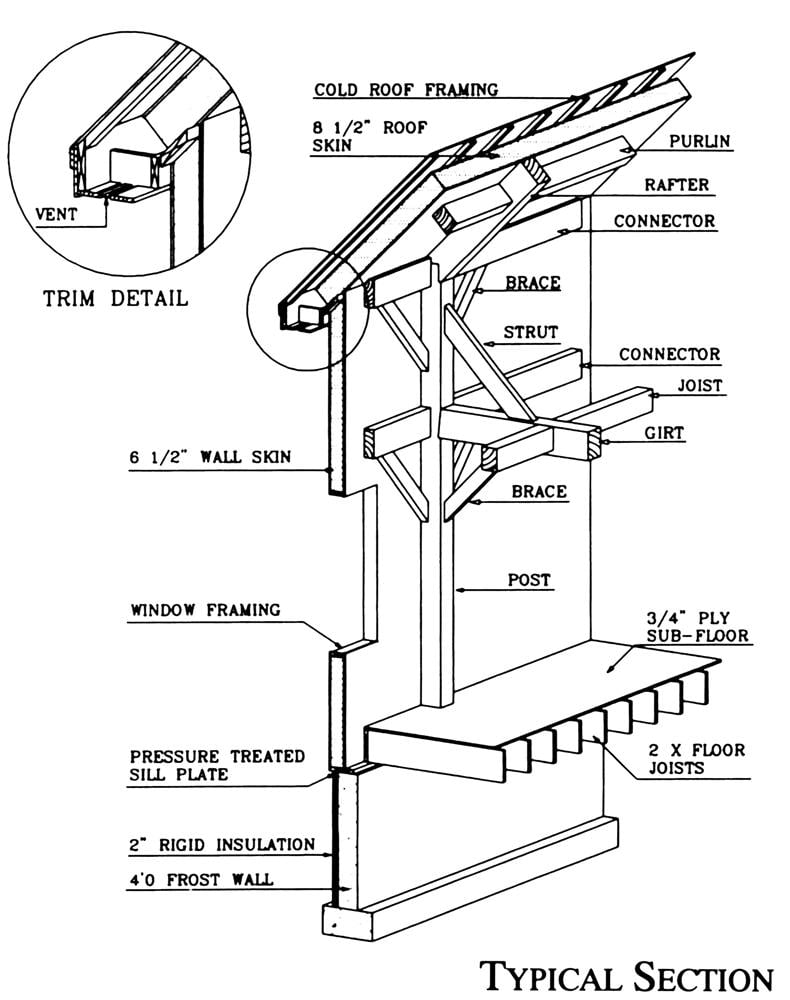 To the right is a picture of a typical Wall & Roof System. One of the most important parts of the wall and roof system is venting the roof. Stress skin panels are used to carry loads and also insulate roofs. The panels are called SIP's (structural insulated panels). SIP's, also know as stresskin, are made of four layers: 1/2″ Oriented strand board sheathing on the outside, expanded polystyrene foam insulation in the middle, & 1/2″ OSB backer board and optional 1/2″ sheet rock on the inside.  See the picture above for the entire wall system detail.
When a non-venting roofing material is used, like asphalt shingles, wood shingles or standing seam metal roofing, a vented cold roof is required to ensure that the roofing material lasts & the stresskin panels continue perform for years.
Channels are pre-cut in the foam for electrical wires and OSB splines screwed in at the joints to hold the panels tight. 2x framing is installed around the windows & doors for added strength. Mechanicals, like plumbing and wiring can also be hidden in the 2x floor framing and the interior partitions. The result is an airtight insulating system that is extremely efficient. So efficient that we recommend that an air-to-air heat exchanger is installed to ensure adequate fresh air ventilation.
High quality 2x tongue & groove ponderosa pine decking is used between floors. Most of the time we install another 2x floor system above the decking for mechanicals, but our pine decking is so nice that many of our clients choose to use it for their finished floors upstairs.
We have joined together with Foard Panel, suppliers of stresskin enclosure systems, to create the Vermont Timber Works & Foard Panel Stresskin Panel Information Page on Foard Panel's web site.Click here to learn more about structural insulated panels by Foard Panel.
Find more information from the following stresskin (sip) companies:
Foard Panel
Murus Panel
Thermocore
Lamit Industries
A typical wall section is pictured above. Of course, many projects have unique systems, but the basics are typical. The timber frame is fastened to a 2x floor system, stress skin panels are attached to the frame, doors and windows are cut in, and a 'cold roof' system is incorporated into the roof. Venting the roof is extremely important. As tight as stresskin can be, if there is even a small gap in the spray foam sealant used to seal the panels together, moisture can leak through the roof system and rot out the roof deck – causing huge and expensive problems. Spending a little extra money during construction and adding a cold roof makes the moisture problems go away and insures that the stresskin will last a lifetime. Stress skin panels are also called SIP panels, or SIPs for "Structural Insulated Panel". A SIP is designed to carry load as well as insulate the walls and roof. It is made of at least three layers – OSB (oriented strand board)/Foam Insulation/OSB – sometimes sheet rock or wood paneling is laminated to the inside of the SIP to form the finished ceiling or wall. Entire homes can be built of nothing but SIP's! They are super insulating, but we still like to see the timber and have the strength that post & beam framing provides.
Have a Question?