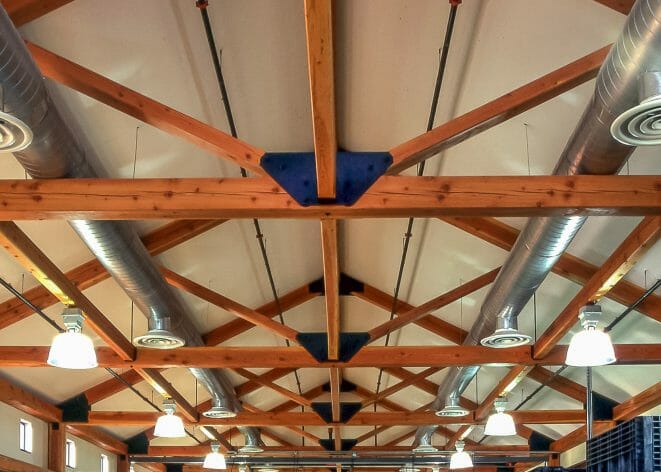 The Vermont Teddy Bear Company is in Shelburne, VT. Vermont Timber Works provided a commercial heavy timber frame that covered 18,000 square feet with 40′ x 120′ clear span trusses for the factory.
We worked with Breadloaf Construction, architects Truex Cullins & Partners and engineers DuBois & King, Inc. on this custom project.
All of our frames are handcrafted to meet exact project requirements, and we enjoy working with our clients to make sure the details – from design to finish – are just right.
If you like this timber frame, or have timber work questions, we invite you to get in contact or ask an expert!
Have a Question?
EXPLORE THE FACTORY
VT Teddy Bear has timber ceiling beams in the factory, the employee areas, and the retail store. The trusses have a king post design and were fabricated from douglas fir timber. The joinery is reinforced with black steel connector plates and bolts. There are timber columns outside the factory that are beautiful architectural detail.
Have a Question?