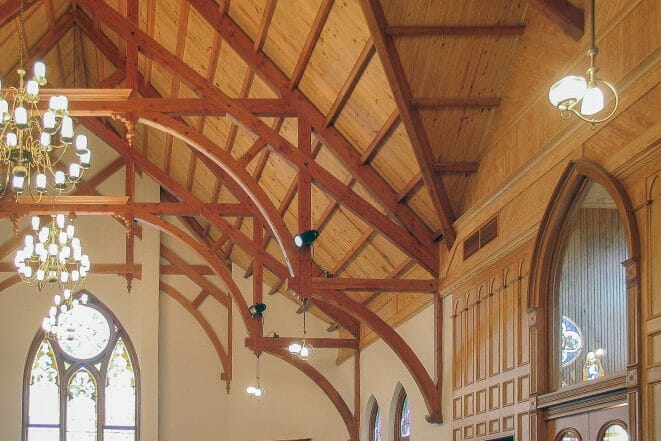 The First Presbyterian Church of Navasota is in Texas. It is registered as a Recorded Texas Historic Landmark. After a fire damaged the church, Vermont Timber Works provided custom, heavy timber trusses to restore the cathedral ceiling.
We worked with Guide One Construction, Dufresne-Henry engineers, and MBC Management on this project.
All of our frames are handcrafted to meet exact project requirements, and we enjoy working with our clients to make sure the details – from design to finish – are just right.
If you like this timber frame church restoration, or have timber work questions, we invite you to get in contact or ask an expert!
Have a Question?
THE INTERIOR POST RENOVATION
The new trusses were matched to the original trusses by using Douglas Fir timber for the straight beams and glu-laminated timber for the curved braces
THE FIRE DAMAGED INTERIOR PRE RENOVATION
The church was originally built in 1894. Below are pictures of the original, fire damaged trusses.
THE ASSEMBLY & RAISING
After a timber frame has been fabricated in our Vermont shop, our crew often travels to the job site to assemble and raise the frame. The same people who cut the frame do the assembly.
THE DRAWINGS & PLANS
The timber frame design process involves a series of sketches and review with the client and their architect — including a 3D model of the frame — until there is an approved final design. With the final design, detailed 2D shop drawings are created and used to fabricate the frame.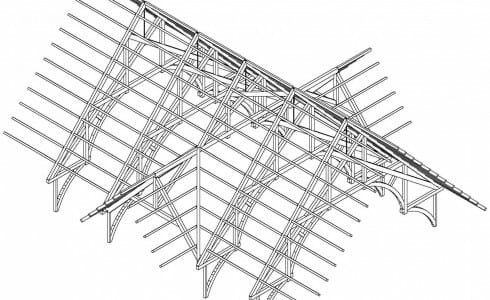 Frame Plans
Download Frame Plans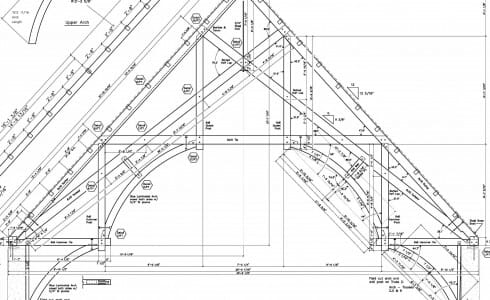 Truss Profiles
Download Truss Profiles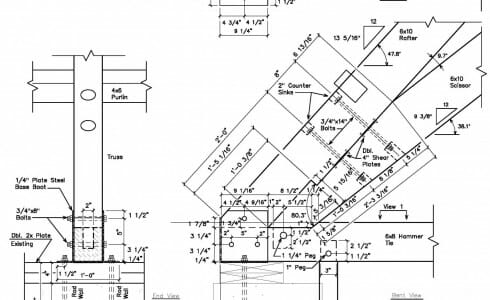 Joint Details
Download Joint Details
Have a Question?