How Should I Join The Timber For My Trusses?
Asked by RJ on January 15, 2017
I am an expat living in Brazil. I am almost ready to start construction and will be using ipe for the trusses. Hard as a rock and really strong. The stock is 8cm x 12cm and 8cm x 16 cm. How is the best way to join them. Keep in mind the house is on the ocean and exposed to salt air from one of the saltiest areas in the Atlantic and a tropical windy climate.
RJ
Answered by Margaux Friant
Hi RJ,
Your best bet is to have a look at our joinery pages, or maybe buy a book on timber joinery. It can be pretty complicated stuff. All the joinery is designed to resist the tension or compression forces in particular members. We design the joinery after completing an engineering analysis of  the frame which takes into account the buildings location – designing for wind, snow or seismic loads as well as the dead load of the building and the live load of the contents and occupants.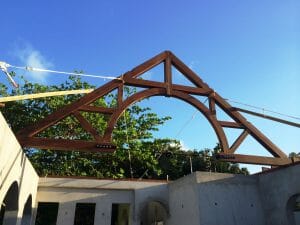 Ipe is a great wood – good luck with your project!
Doug