Ridge Ventilation
Asked by Kurt on September 25, 2013
Are there many benefits for passive ventilation out the ridge for the salt box. I have been considering using a frame for my barn but need it to vent well for crop storage and drying.
Answered by Doug Friant
Ventilation of any roof system is very important. In insulated timber framed houses with stresskin roofs (SIP's), we recommend a cold roof system: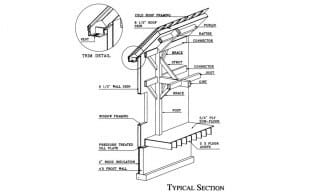 For barns, there are several possibilities. A ridge vent would work, but there really isn't enough area at the ridge to dry out hay or crops. A cupola, or open hay loft door would work much better.