Today's post is going to be all about steel connections. Sometimes steel connections are used in timber framing to provide additional structural support, and other times steel is used just because it looks good. It's all about personal preference.
The picture above is of typical steel plates primed with black paint.  Every now and then, we'll get a request for powder coated steel, and that's fun to see. Which color would you choose?  I'm partial to red…
Remember the teddy bear factory?  It's the frame shown above, and has trusses reinforced with steel plates.
This one has black steel plates and steel tie rods.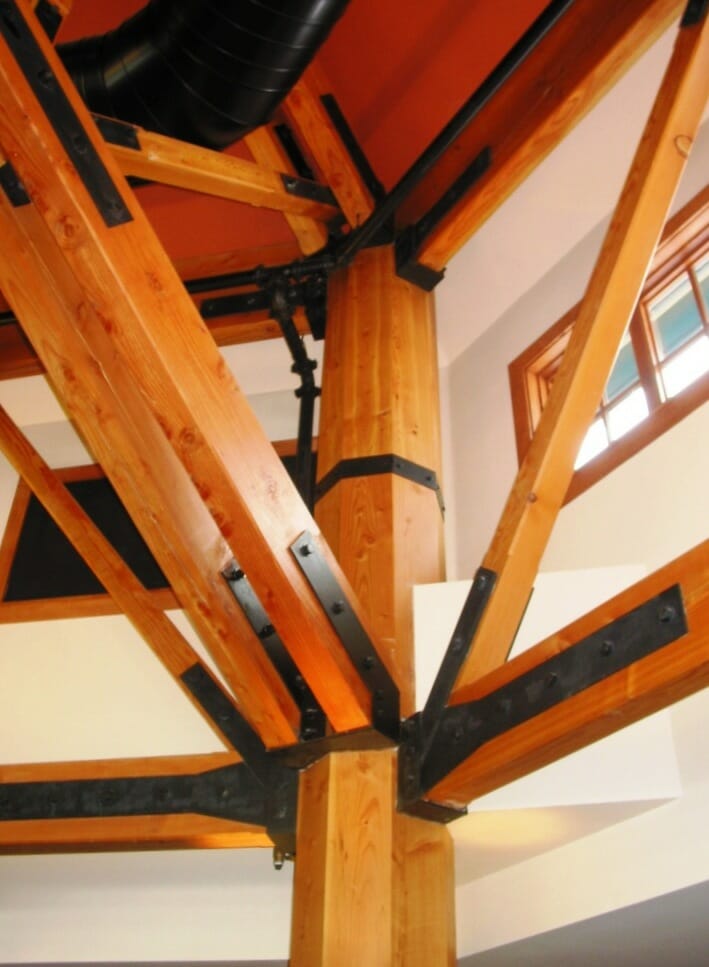 Stowe mountain lodge, pictured above, is a complex timber frame where steel joinery was necessary structurally and also looks good.  Ledger beams and girder trusses are both connected to the column with steel.  A lot going on!
This steel joinery gives the pavilion a rustic look, in my opinion. The plates add a weight to the design.
Last one for today.  That's a galvanized steel column cap.  The timber braces are cut so they can fit into the steel column.
How's that for an interesting connection?
Thank you for stopping by our timber framer's blog. If you like steel joinery, or have any timber frame questions, we encourage you to get in contact, ask an expert, or share your thoughts in the comment section below!