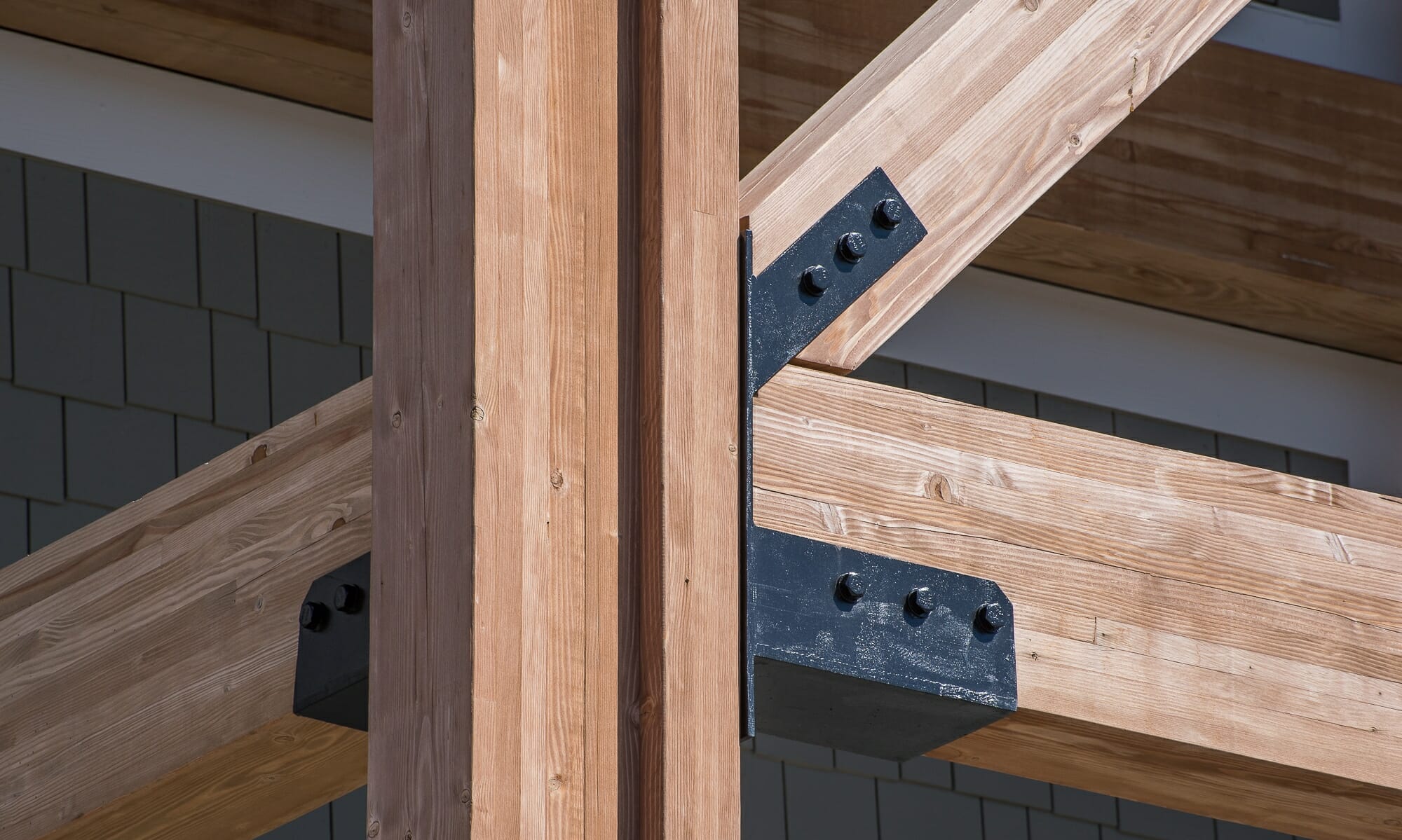 Most people don't consider steel when thinking about building a home. But for people building a barn or commercial space, they first have to decide whether they're going to build with steel or wood. Today we're going to go over some of the considerations for both building materials.
Strength and Durability of Wood vs Steel
Both wood and steel are strong building materials. Wood is a strong enough building material that structures made from wood, especially timber framed structures that benefit from strong traditional joinery connections, can last for generations. However, steel is better able to withstand seismic activity, fire, and isn't susceptible to insect damage. Wood is also susceptible to damp and can rot. So, both wood and steel are strong building materials and while wood is durable, it is not as durable as steel.
Fabrication and Installation of Wood vs Steel
The fabrication for steel and wood are two very different processes. Lumber needs to be harvested, then milled and shipped to its destination where it can be further cut and fabricated. Steel is fabricated in one location from raw materials that have been shipped to the location. The installation process for both can be relatively easy. All the steel components will be fabricated away from the building site and steel can be installed by relatively unskilled laborers. A timber frame structure will also be fabricated away from the build site and installed easily, but it will need to be installed by a team of skilled timber framers.
Maintenance and Upkeep of Wood vs Steel
All buildings require some level of maintenance and upkeep throughout the building's life. Wood can require more maintenance and upkeep than steel, however. Wood is susceptible to dampness and can rot if it isn't re-stained or re-painted every few years. Steel can be prone to rust but that's less likely to happen unless the building experiences water damage. So, wood does require some upkeep every few years by re-staining all the exposed wood and assuring that all the wooden members aren't rotted and don't need to be replaced. Steel will require very little if any upkeep of this kind.
Cost of Wood vs Steel
The cost of wood and the cost of steel can vary based on market prices as well as tariffs that affect the cost of both materials. However, generally, timber is less expensive than steel.
Insulation of Wood vs Steel
Insulation is important for any home or building. Steel likes to transfer heat, whereas wood does not. So wooden structures are easy and efficient to insulate, while steel can be difficult to insulate.
Environmental Impact and Concerns of Wood vs Steel
The environmental impact of both building methods can be argued as to which is a greener or less impactful method, and it's difficult to determine a clear winner. Both methods have an environmental impact, and both materials have an environmental benefit. Wood requires the cutting of trees, which can have an impact on the environment. However, wood is generally considered a renewable resource when it is harvested from properly and sustainably managed forests. Wood is also a material that traps carbon. So the more trees we plant to serve our need for building materials, the more carbon those trees store. Unlike wood, steel is recyclable. All steel can be reused again and again. However, making steel and recycling steel creates pollutants. So, both materials have environmental impacts to be considered.
Aesthetics of Wood vs Steel
Steel buildings and wood buildings generally have very different styles and aesthetic values. Wood is the most typically used building material, so its use in homes feels expected and safe. Wood feels traditional in a home or building and evokes ideas of tradition and history. Steel is an unusual material to use in a home and its use will feel modern and unusual or highly stylistic. However, with different kinds of veneers and facades available, a home could be made with steel but designed to look as though it was made from wood or brick and no one would be able to tell.
Both wood and steel are highly strong and favorable building materials. While we at Vermont Timber Works always prefer working with wood, the choice between wood or steel is based on an individual's preferences and what is most important to them when building their home or commercial space.