Fabulous!  Let's get this party started…
1st.  Assuming you have already purchased land, it is helpful to get a site review.  You'll also want to decide where to set your home. That means thinking about fun things like where the sun is going to hit in the morning and which views are the prettiest. Lake side, as shown here, would be an easy choice!
2nd:  Do you have a design picked out?  If not, you'll need one. This is something we can help with!  We can partner with an architect to get started customizing your home. Bonin Architects is one of our favorite partners. The home below is a Bonin Architect design.
3rd:  Pick your team.  It's important to do interviews and ask for references.  Depending on how much time you have, and how "hands on" you would like to be, you may, or may not, want a construction management team. Many architectural firms offer design – build.
4th: Decide on a budget. For example, a full timber frame would have a very different overall cost from a hybrid timber frame. A budget helps keep these type of decisions on track.
Let's take a look at some completed homes for fun!
The owners of this home chose a hybrid timber frame design for their entry way and great room.  The trusses are an elegant part of the home, don't you agree?
Next, let's explore Night Pasture Farm, It's an example of a completed, full timber frame home that went through the entire process.
The design features complex joinery, keyed beams, steel straps, and canted posts. It is completely custom, and looks like no other.  In this case, that was the goal. However, it's good to keep in mind that there was a large budget for this home. Typically the level of complication in a design will be reflected in the cost.  More design time means more engineering challenges.
Another nice detail of the home is that it's centered around a gorgeous, huge stone fireplace.
The interior is so well done! The beams are connected with steel plates and cherry keys.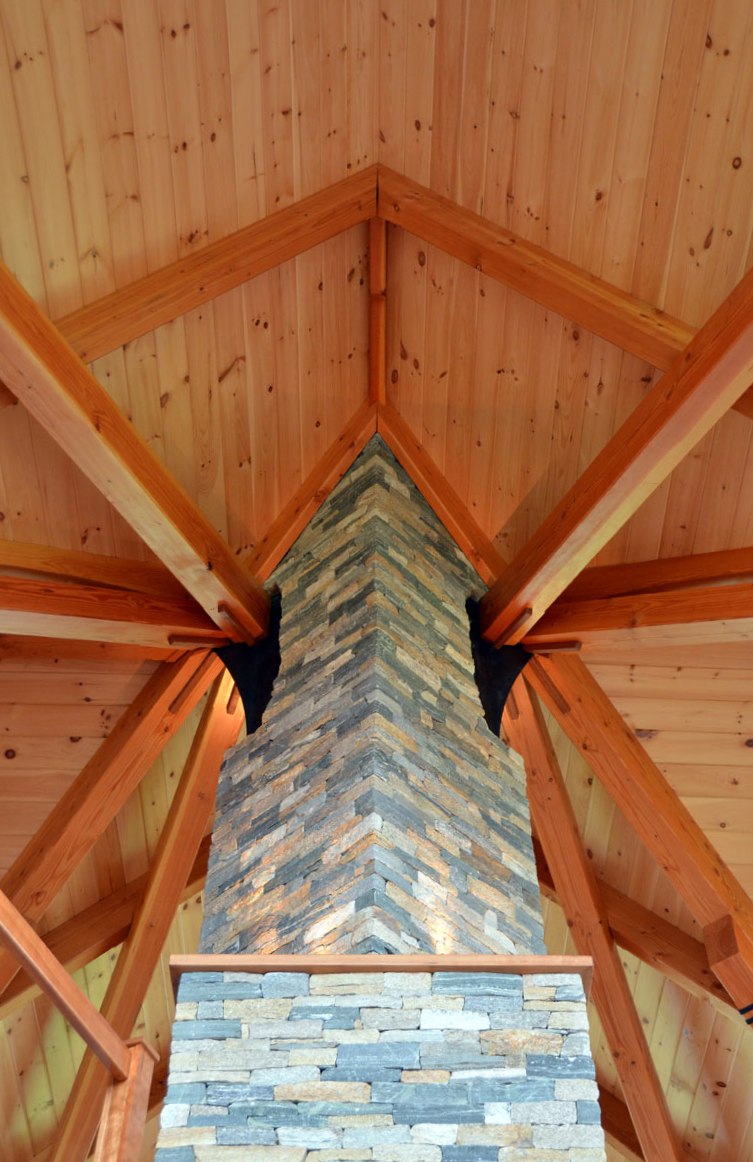 The architects, Bonin Architects, were the construction management team on this project. They get all the credit for the design ideas! They did an excellent job listening to their clients. Our role was to take these ideas and use them to engineer and fabricate the exact frame they wanted. We excel at challenging projects.
Whether you have a vision for a complex timber frame, or a simple one, we can help you design and build a home you will love. Give us a call and tell us about your project!
As always, thank you for stopping by our timber framers blog. If you like this post, or have any questions, we invite you to get in contact, ask an expert, or share your thoughts in the comment section below.