Sunny 95 is a dining hall in Arlington, OH. The timber frame for this project was constructed using new timber and reclaimed timber.  The new portion of the frame was handcrafted in our shop.
We worked with R. W. Setterlin & the Timber Framer's Guild on this project.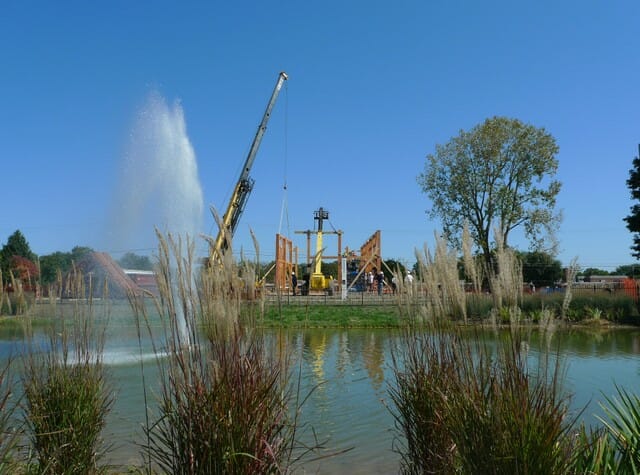 Timber Frame Raising
The picture above shows Sunny 95 during the assembly. A crane is raising a timber frame bent into place. Have you ever seen a timber frame building assembled?  If not, I highly recommend it.
Below, is a picture that shows how The Timber Framer's Guild works.  Working with the guild is like an event. Everyone gets a chance to help out!
Next, you can see the framers working to connect the reclaimed beams with the new beams, which is a tricky task. Everyone involved did a great job!
Done!  See the little tree at the top?  That tree signifies the raising is complete and will bring good karma.
Alicia from the Timber Framer's Guild sent in these pictures, thank you very much!
Thank you for stopping by our Timber Framer's Blog. If you like this project, or have any questions, we encourage you to get in contact, ask an expert, or share your thoughts in the comment section below!