Listening to the weather forecast this morning, snow flurries? Really?  Yes, AND since Killington Mountain is already open for the fabulous skiing season, let's take a moment to celebrate another wonderful season in Vermont.  Autumn or Fall, which do you call it?
This tree is so pretty it stops traffic as people pull over to take pictures.
One more picture — the fall colors are beautiful and bring many visitors to our state, which we appreciate.
Ok, enough about autumn, back to reality. Bring on the snow, and the skiing, and the fun!
If you're visiting Vermont this winter and are coming from the south, be sure to stop at the Southern Vermont Welcome Center off of I-91 on your way up.  The Welcome Center frame is a wonderful example of our timber craft at a large scale. The hand hewn & traditionally joined white pine beams are rustic, handsome, and serve as a great home to share Vermont's history. The Welcome Center also displays a variety of Vermont Products, which change month to month: anything from furniture to artwork, glass blowing, craft items and fun things to do on your visit. (After visiting us, of course).
If you're interested in seeing more commercial Vermont Timber Works' frames on your drive north, there are a few more stops along the way.
We provided timber frame structures for Jay Peak Resort.
Let's take a look at their Porte Cochere. Jay Peak gets a lot of snow fall, which is an engineering challenge, and as a custom shop, we get excited by a challenge. For this porte cochere, glulam carrying beams along with natural timbers were used to support heavy snow loads.
We have been involved with several projects up at Jay. Just take a walk around the Tram Haus Lodge and look up. We provided the modified king post trusses for each gable, and the balcony posts and beams.
Next, on our journey of commercial VTW frames in the Vermont, is Green Mountain Suites in Burlington. The hotel has a GREAT room that is quite something with a huge stone fireplace and modified king post trusses.
Before you spend the night in Burlington, a stop in Shelburne to visit the Vermont Teddy Bear Factory would be great fun, especially if you have kids. They can make their own teddy bear!
The timber frame construction for the Teddy Bear Factory has king post trusses reinforced with steel joinery due to a 40ft clear span. The beams are douglas fir and the steel is black, which gives the factory a strength, but of course all the Teddy Bears soften that strength right up. Trust me!
Last on your Vermont trip, are the amazing timber frames in Stowe. The Trapp Family lodge is in Stowe and has king post trusses on all its gables, similar to the Jay Peak Tram Haus Lodge. The interior of the lodge has a conference room with beautiful hammer beam trusses.
Then there is the Spruce Camp Base Lodge at Stowe Mountain, which is an 80ft Octagon heavy timber frame. It's massive and impressive! Of course, there is excellent skiing too.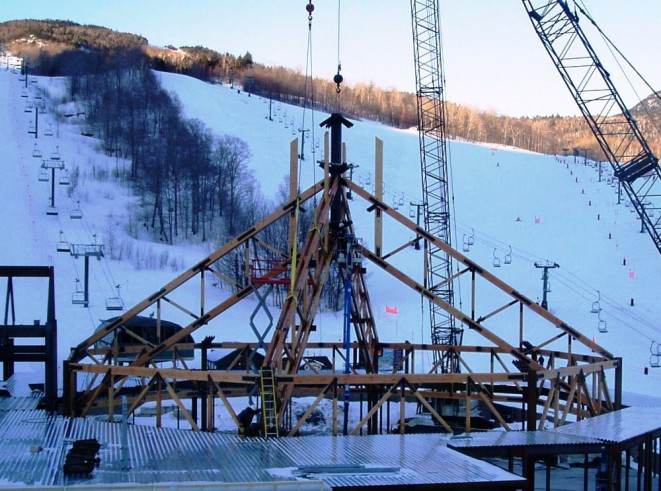 Whether you are coming from the north, south, east or west, we would love to have you visit our office & shop in Springfield, VT.
Just remember to watch out for the barking poodle!
Thanks for stopping by our Timber Framer's Blog!
If you like any of the projects in the post, or have timber frame questions, we encourage you to get in contact, ask an expert, or leave your thoughts in the comment section below!