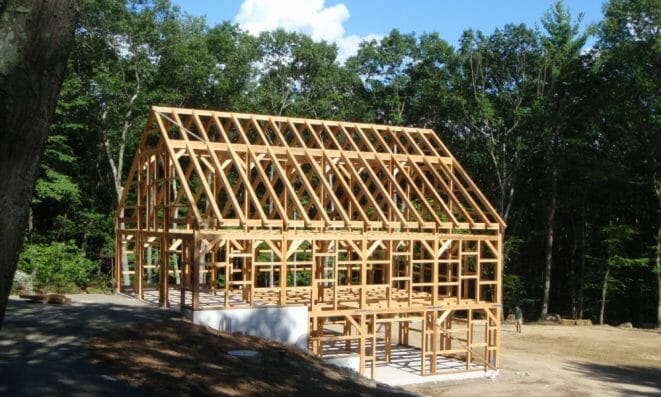 When you purchase a new timber structure and all of the beams finally go into place, the finished product is so beautiful that you can't stop admiring it.  Every piece of timber seems so perfect, with the exception of a few knots, which give it character, or some different shading in the wood grain, due to the weathering process.
But after a few years, you look at the same structure and begin to notice that it may not seem so perfect.  It now is displaying a few "cracks" and the wood appears to perhaps have shrunk a bit.This is absolutely normal, and by no fault of anyone but Mother Nature herself.
Most of the timbers we use here at Vermont Timber works have a natural moisture content and are considered to be "green", unless otherwise specified.  Over time, as it is exposed to the environment, heat, weather, etc., it starts to lose its moisture content and will change slightly in characteristics.  Sealing the wood with a protective coat can help to slow this process, but to try and stop it together is virtually impossible.
I suppose, in a sense, we could look at it like any other aging process.  We as human get wrinkles and crow's feet….and some of us eventually "crack"…
Timber?  It checks!
If you have any more questions about timber, we encourage you to get in contact, ask an expert, or share your thoughts in the comment section below!