There are endless ways to design a timber frame!  For each design, there are certain things an engineer has to think about. Some designs give the engineer A LOT to think about. At Vermont Timber Works, we love a challenge.  We design, engineer, evaluate, and detail every timber joint. We also hand cut the timber and typically raise the frame.
Let's talk about some of the things our engineer thinks about when designing your frame:
What's shear? What's uplift? Why does she want to know where my project is located? But I don't want steel joinery?
Shear: Shear is the amount of strength needed to resist the lateral force (wind). Look what I found when I googled Shear.
Pretty cool! Ok, back on topic.
Uplift: Again wind related.  Imagine the pavilion located at Six Flags New England.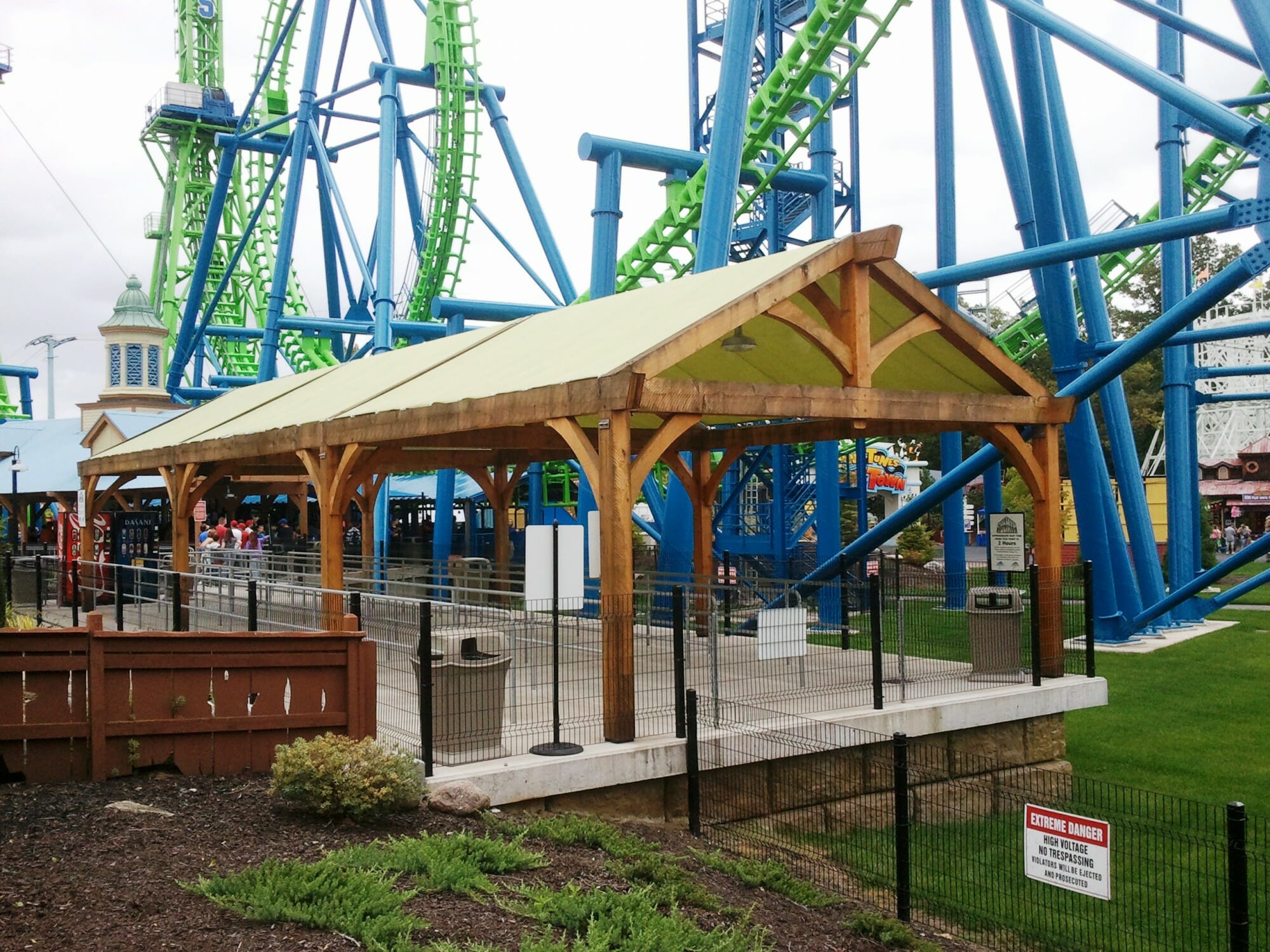 Here comes a super storm, and if that timber frame hasn't been properly engineered for possible uplift, then it will go up, up and away.  Most folks just don't think about uplift — the structure may fall in, but blow away? Fortunately, that timber frame isn't going anywhere.
Location: Building codes vary by location. A timber frame located on Hurricane Alley would require joinery to carry stronger loads and resist more shear than a timber frame located in the heart of New England.
The elevation of a location also comes into play.  Let's say you would like to build a timber frame home in Stowe, VT.  If you would like to build near the Stowe Mountain Lodge, not only would you have one heck of a view, you would also be at an elevation of more than 1,559 ft! The timbers for your home would be larger than timbers at a lower elevation, and the joinery would be stronger.
Joinery:  Timber frame joinery can either be traditional or steel. Traditional joinery uses only wood with mortise and tenon cuts and pegs to connect the beams. Other times, steel joinery is needed for strength, or because a client likes the look.
If you don't like the look of steel, but it's needed to meet engineering codes, we can often hide the steel. Our engineer would be the person to ask about making that happen.  The engineer knows, trust me, she does…and don't argue.
Thank you for stopping by our blog! If you're interested in a timber frame, or have any timber work questions, we encourage you to get in contact, ask an expert, or share your thoughts in the comment section below!