You have chosen a timber frame for your new space.  Hooray!  Now let's talk about more fun stuff, like decorating your timber frame home.
For this post, I'd like to talk about three decor elements:  Flooring, Lighting and the Kitchen Cabinetry.
Imagine exposed timber beams throughout your home, perhaps an open great room area, wood flooring, and a stone fireplace. The house below combines all these design elements. The frame itself is hand hewn and feels rustic. Take a look at the cabinetry in the kitchen. The white paint contributes to the home's country appeal.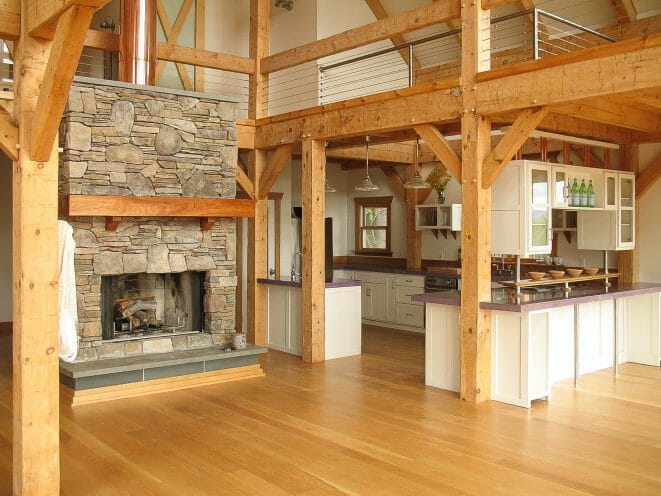 To inspire you further, let's look at another kitchen.
The kitchen below is in a home with a douglas fir frame, cherry cabinetry, soapstone counter tops,  and wood flooring.
For lighting in timber homes, it's great to choose lights with weight. Hubbardton Forge offers wonderful wrought iron options for all lighting areas. They are located in Castleton, VT and carry beautiful pieces.
Most importantly, have fun finishing the interior of your timber frame!
Thank you for stopping by our Timber Framer's Blog. If you have any timber frame questions, we encourage you to get in contact, ask an expert, or share your thoughts in the comment section below!