When you think of a timber frame structure, do you visualize a home?  A barn? How about a ski lodge?  At Vermont Timber Works, we pride ourselves in offering timber frame structures like these, among others. In this post, I'm going to show you examples of different Vermont Timber Works frames, including: A bridge, a pergola, an amphitheater, a cupola, and a town hall restoration.
Bridge
Do you think we would shy away from a timber project like a bridge? We would not.  It's fun and challenging for us to take on new projects!
Pergola
What about a pergola in The Hamptons? Of course not. Take a look at all the scroll work on the ledgers and rafter tails!
The timbers for the pergola were a challenge to source, because they are white oak and 32ft. The posts in this frame are not timber. They are steel with timber cladding. The timber pieces are lightly hewn. This project turned out quite stunning.
Amphiteather
Take a look at this Amphitheater. It was constructed using Douglas Fir timber and is one of 5 structures we provided for this park project. Bring on the band!
Cupola
This timber Cupola is cut from Cypress. We constructed it for the Presbytere, Louisiana State Museum. We are proud to have been involved in the restoration. It's an historic landmark! Some projects just stand out, and this is one of them. If you're ever in New Orleans, it's on 751 Chartres St!
Town Hall Restoration
Last but not least! Lets take a look at another historic restoration. This one happens to be a little closer to home. It's the Ferrisburgh Town Hall in Ferrisburgh, Vermont.  We were contracted to be a partner in the rebuild after a fire destroyed the landmark.
You might not know that the cupola-bell tower was a timber frame, which is why we were approached. Our crew cut and joined the new frame and shipped it fully assembled so the contractor could crane it into place.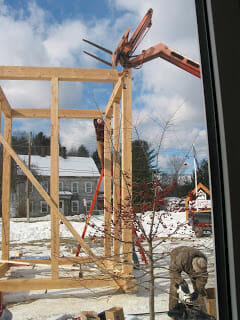 Vermont Timber Works offers creative solutions to challenging and unique timber projects.
As usual, thanks for stopping by our timber framer's blog! If you like this post, or have any timber work questions, we invite you to get in contact, ask an expert, or share your thoughts in the comment section below!