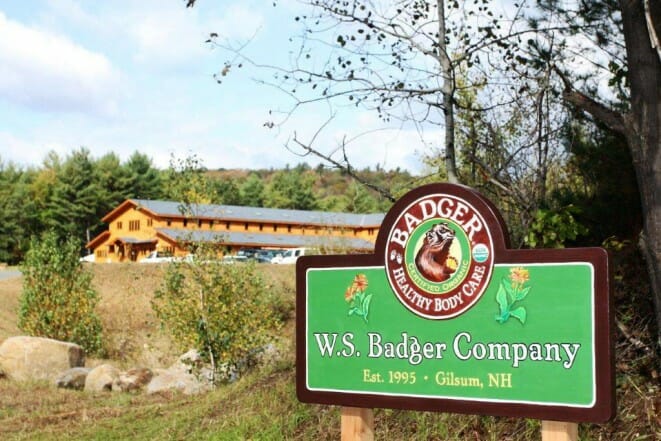 The Badger Balm factory is in Gilsum, NH. Vermont Timber Works provided columns, girders, and joists (timber framing) for the factory. The ceiling and walls are conventionally framed. It is a hybrid project.
We worked with American Construction, Inc. on the Badger Balm factory.
All of our frames are handcrafted to meet exact project requirements, and we enjoy working with our clients to make sure the details – from design to finish – are just right.
If you like this timber frame, or have timber work questions, we invite you to get in contact or ask an expert!
Have a Question?
TESTIMONIAL
"Badger was in the midst of trying to find a great timber framing team to put up the core of our 23,000 sq ft. modified stick and timber frame commercial building. As fate would have it, the frame needed to be assembled in December and January as we were on one of those difficult, tight schedules under adverse conditions with limited funds. You folks optimized the frame and engineered an aesthetic metal bracket joining system to help our frame meet the limited budget. You cleared the space and time in your shop and schedule, cut the frame, delivered and assembled it in a timely manner…pretty much through rain, sleet, snow and really cold weather. It's strange to remember all that now as I'm sitting here in a nice tight, pleasant building admiring the warmth and aesthetics of the frame. It's been a game changer for our company-having such a comfortable, efficient space to work in. I just want your team, from design on down to assembly crew, to know how much we enjoy our new building and appreciate the great work you did for us." — Bill Whyte, CEO & Head Badger
EXPLORE THE FACTORY
The interior of the frame shows off decisions that were made early in the process, like the wood species and the joinery style. This frame has rough sawn douglas fir timbers. The joinery style is simple and industrial. The timbers are traditionally joined with mortise and tenon cuts, and are also reinforced with steel bolts and plates.
SEE THE ASSEMBLY & RAISING
After the timber for a frame has been fabricated in our Vermont shop, our crew often travels to the job site to assemble and raise the frame. The same people who cut the frame do the assembly.
Have a Question?