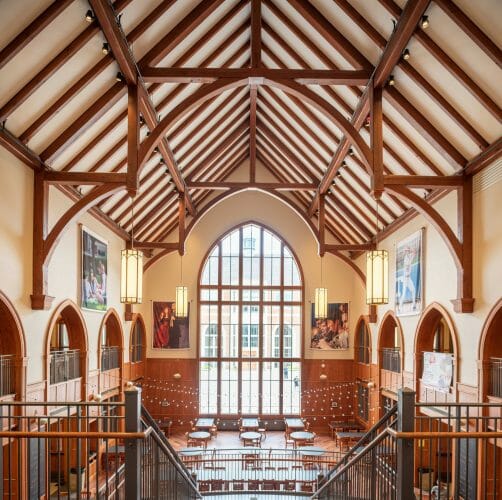 Grove City College is a conservative Christian college located in Pennsylvania. Vermont Timber Works constructed a timber frame for their Student Activities Center. We worked with Hammond Construction, Engineering Ventures and The Ballinger Company on this project.
Because the college wants students to pursue and maintain a strong relationship with their faith, the architectural elements in the student center are reminiscent of classical church components that one would find in a Catholic chapel. The student center features a high cathedral ceiling, large paned windows, wood framed arches, and traditional arched hammer beam trusses. These elements make the space feel sacred while also being impressive and beautiful.
All of our frames are handcrafted to meet exact project requirements, and we enjoy working with our clients to make sure the details – from design to finish – are just right.
If you like this timber frame, or have timber work questions, we invite you to get in contact or ask an expert!
Have a Question?
EXPLORE THE FRAME
This timber frame incorporates both traditional joinery and some steel connections. It was constructed using douglas fir timber and glue laminated arched beams.
SEE THE DRAWINGS & PLANS
The timber frame design process involves a series of sketches and review with the client and their architect — including a 3D model of the frame — until there is an approved final design. With the final design, detailed 2D shop drawings are created and used to fabricate the frame.
Have a Question?