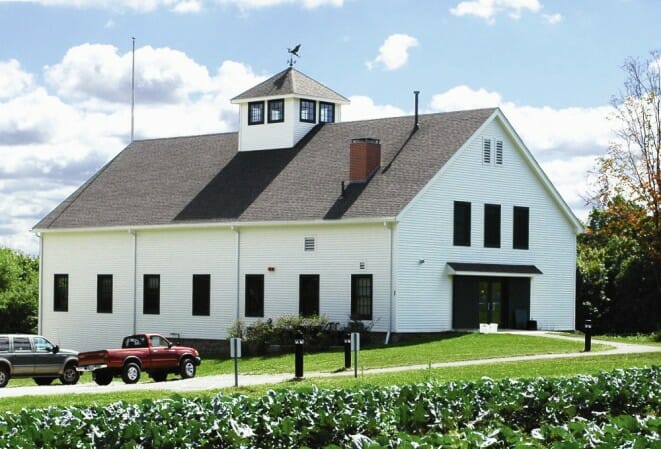 The Brigham Hill Farm is in Massachusetts. Vermont Timber Works constructed a rough-sawn, white-pine and hemlock timber frame for the farm.
The barn is operated by Food for the Needy, Inc., a non-profit organization that runs a volunteer-based farm and donates its annual crops to hunger relief organizations throughout central Massachusetts.
We worked with Dufresne-Henry Engineers, Dixon Salo Architects, and R.H. White Construction Company on this project.
All of our frames are handcrafted to meet exact project requirements and we enjoy working with our clients to make sure the details – from design to finish – are just right.
If you like this timber frame barn, or have timber work questions, we invite you to get in contact or ask an expert!
Have a Question?
EXPLORE THE BARN INTERIOR
The interior of the frame shows off decisions that were made early in the process, like the joinery style. This frame is traditionally joined with mortise & tenon cuts that are secured with hardwood pegs and dovetailed joists.
EXPLORE THE BARN FRAME & EXTERIOR
SEE THE PROCESS - DESIGN & ASSEMBLY
The timber frame design process involves a series of sketches and review with the client and their architect — including a 3D model of the frame — until there is an approved final design. With the final design, detailed 2D shop drawings are created and used to fabricate the frame.
After the timber frame has been fabricated in our Vermont shop, our crew often travels to the job site to assemble and raise the frame. The same people who cut the frame do the assembly.