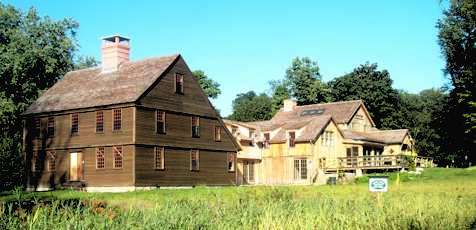 The Schmidt Residence is in Darien, CT. The original house, in the front of the photo, is a reconstructed 1790's tavern. The owner wanted an authentic hand hewn frame for the addition. Vermont Timber Works provided a 1,580 sq.ft. timber frame for the addition.
The frame features hand hewn, native, white pine timber, and traditional mortise and tenon joinery.
We worked with Robert E. Young Associates (Architects), Dufresne-Henry (Engineer), and Condon-Brown (Builders) on this project.
This home was featured on the cover of House Beautiful Magazine's December 2003 issue!
If you like this timber frame home, or have timber work questions, we invite you to get in contact or ask an expert.
Have a Question?
SEE THE PROCESS - DRAWING, PLANNING, & RAISING
The timber frame design process involves a series of sketches and review with the client and their architect — including a 3D model of the frame — until there is an approved final design. With the final design, detailed 2D shop drawings are created and used to fabricate the frame.
After a timber frame has been fabricated in our Vermont shop, our crew often travels to the job site to assemble and raise the frame. The same people who cut the frame do the assembly.
Have a Question?