It's been a pretty mild winter, but there's bound to be another snow storm soon and this post is for when it comes. Sometimes the best way to appreciate the cold weather is somewhere inside, with big comfy couches and a warm-feeling place to lounge. So, in preparation for the next big storm, and to get in the winter spirit, here are 5 cozy timber lodges.
1. Nemacolin Woodlands Ski Lodge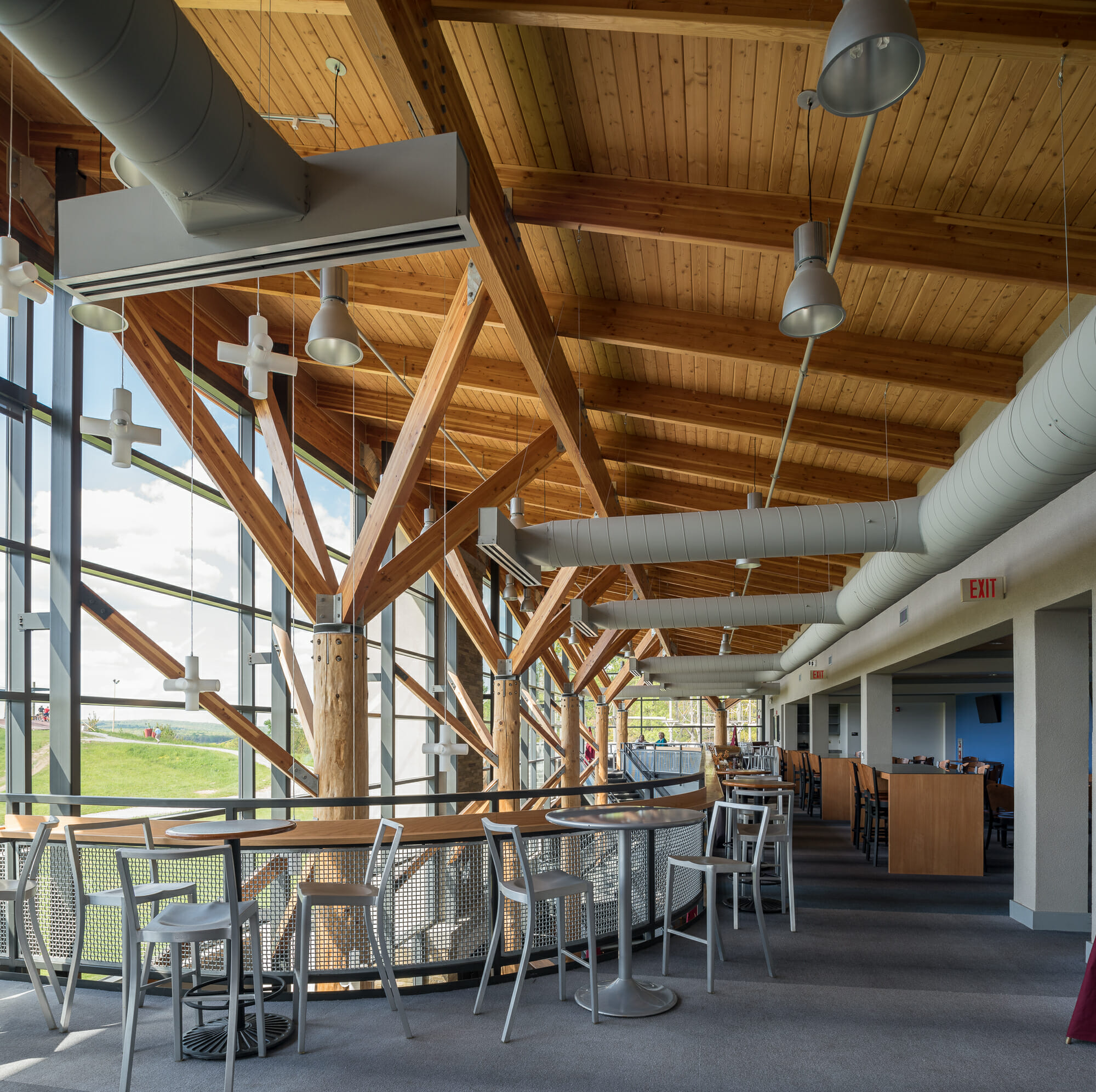 The first timber lodge is for a ski resort in Farmington, PA. The timber frame was fabricated with douglas fir. It features log columns that are connected to braces with steel in a way that resembles branches stemming from a trunk. The building, with its warm frame and expansive windows, is a perfect place to retreat from the cold while still feeling close to nature.
Learn more about this project: Nemacolin Woodlands Ski Lodge
2. Founders Lodge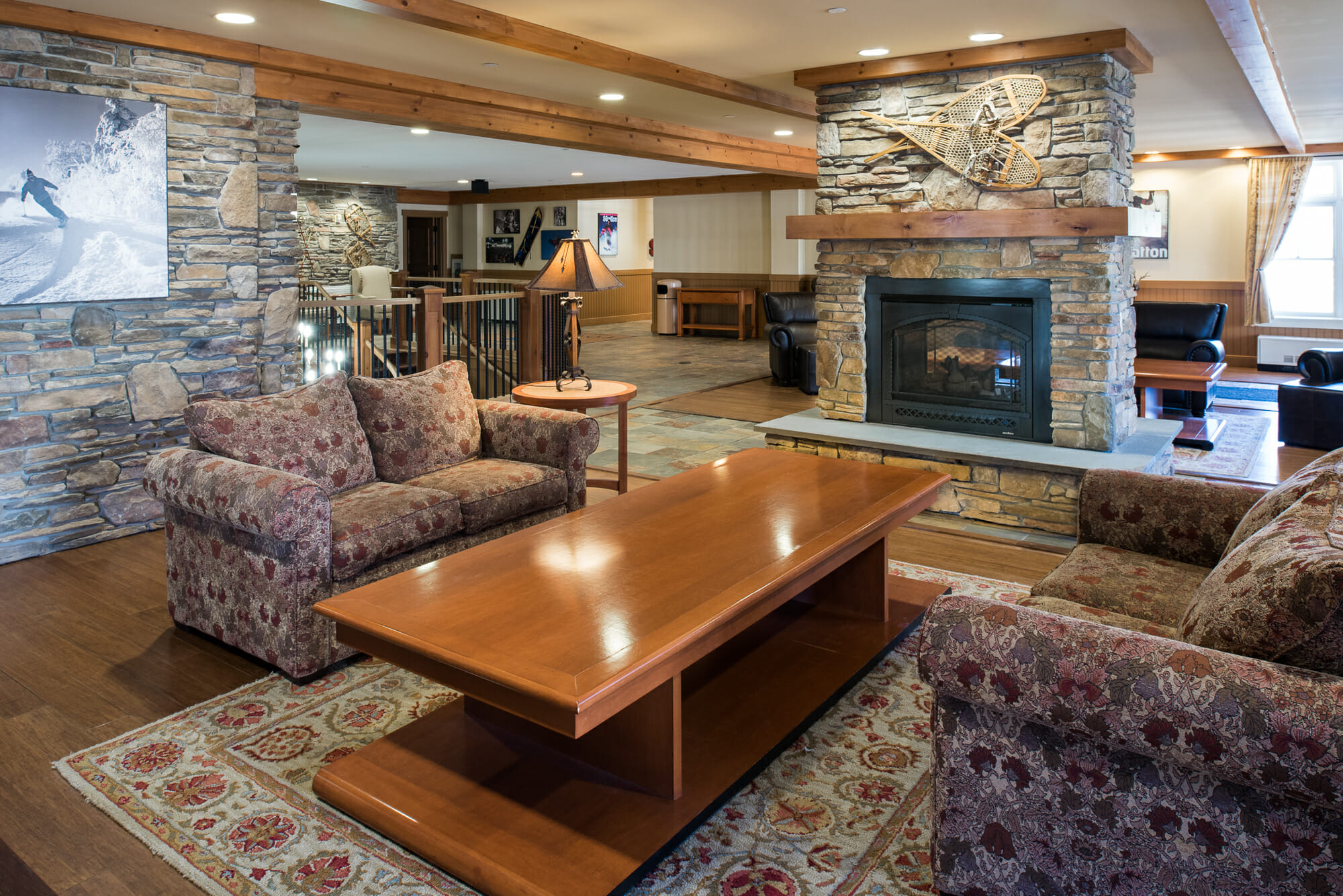 The timber in founders lodge is douglas fir. The lodge is at the base of Stratton Mountain in Stratton, VT. The stone fire place, leather couches, and timber beams make it an extremely cozy lodge.
Learn more about this project: Founders Lodge
3. Jay Peak Ski Lodge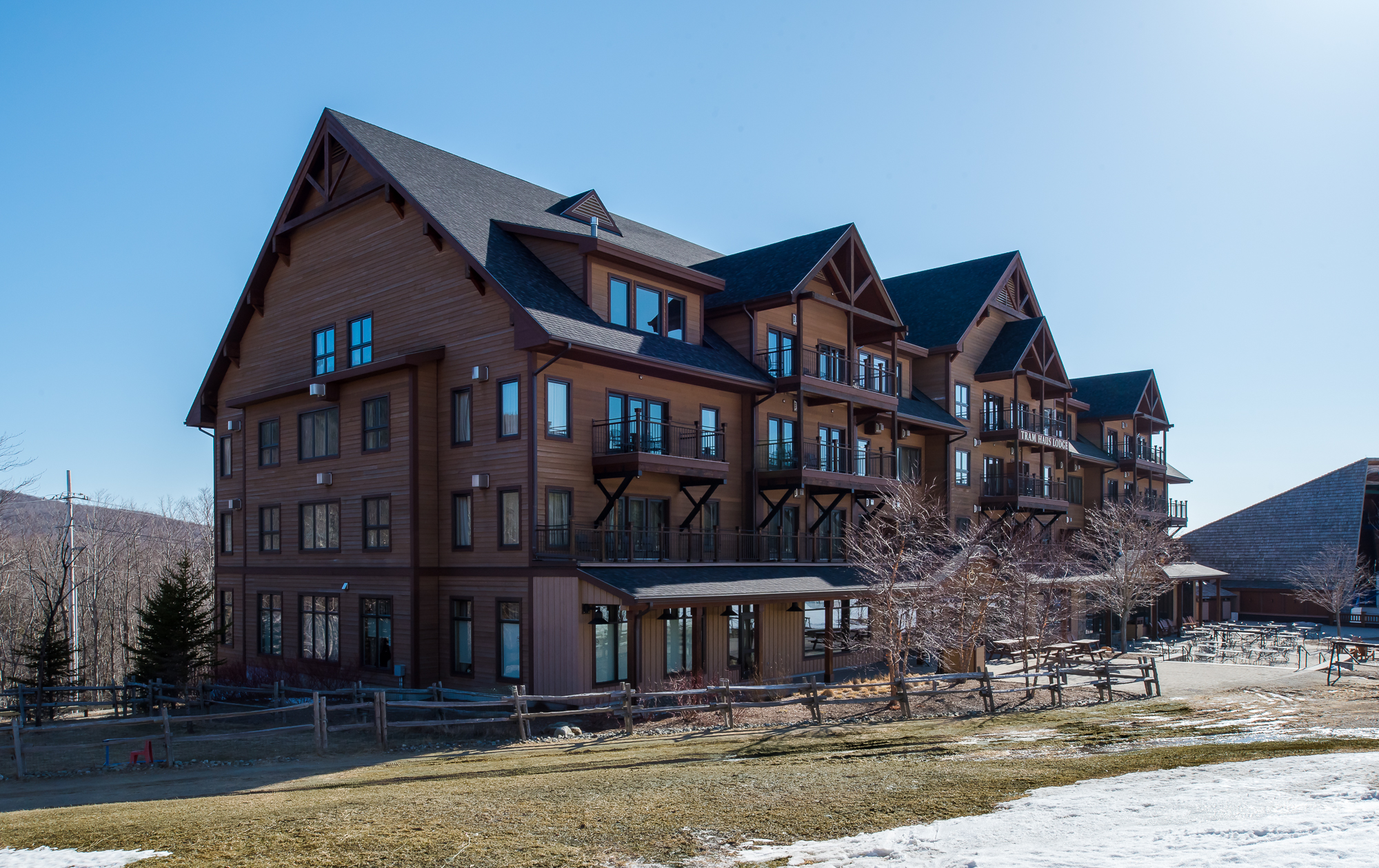 The next lodge is for Jay Peak Ski Resort in Jay, VT. Vermont Timber Works provided balcony trusses for the lodge. They were fabricated with rough-sawn, douglas fir timber. Jay Peak is an awesome resort. In addition to the traditional ski mountain amenities, there is an indoor water park at the resort. So there is the option to feel warm by the fire in a lodge, or there is the choice to feel warm at an indoor water park.
Learn more about this project: Jay Peak Ski Resort
4. Stowe Mountain Lodge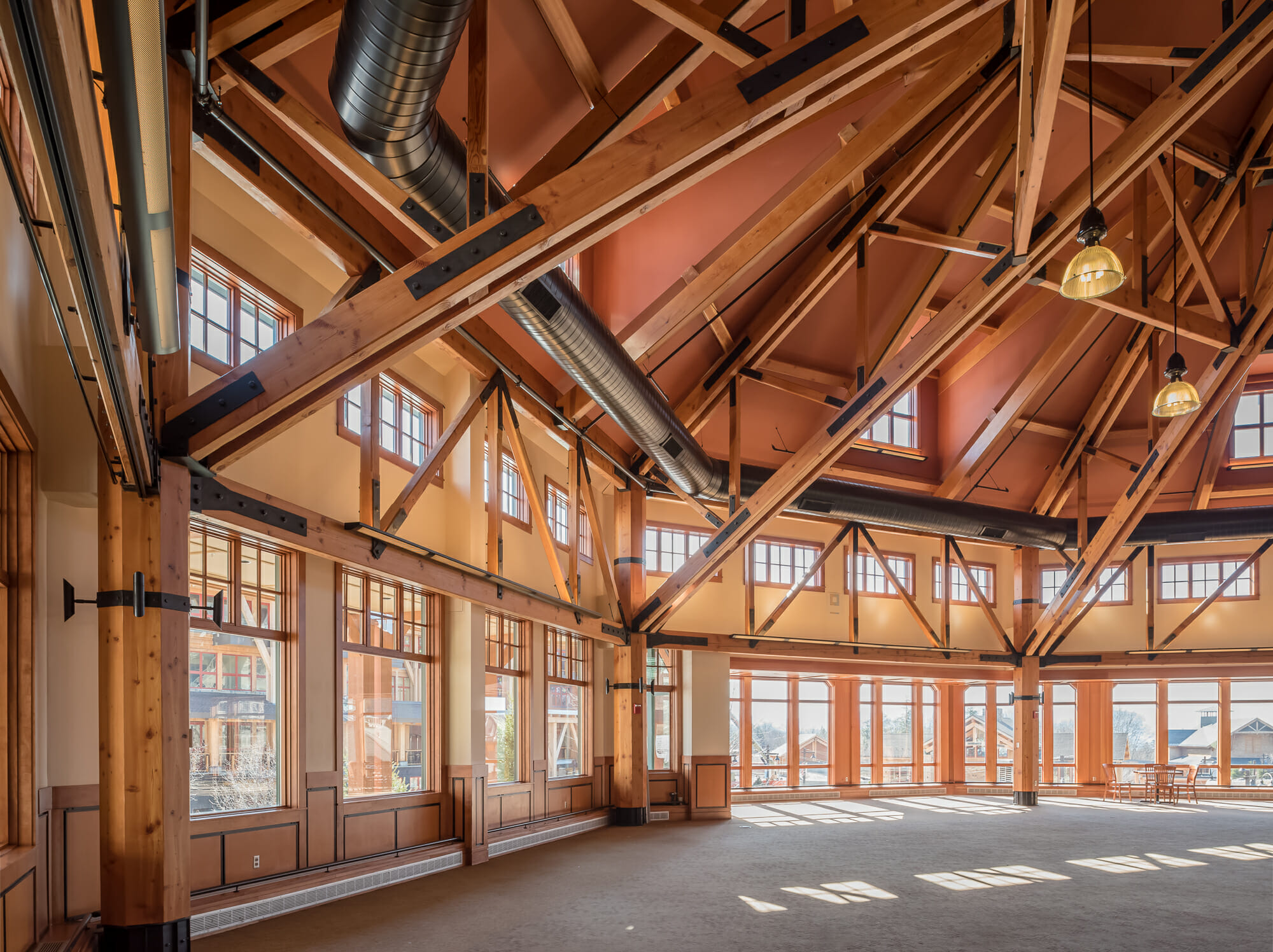 The lodge for Stowe Mountain spans 80 feet and is in the shape of an octagon. The timber is planed smooth douglas fir. It has doubled chorded girder trusses. The connections of reinforced with steel gusset plates that are painted black. It's one of the biggest timber frames Vermont Timber Works has ever fabricated and it's definitely a cozy, warm place to drink a hot chocolate post ski day.
Learn more about this project: Spruce Peak Base Lodge
5. Trapp Family Lodge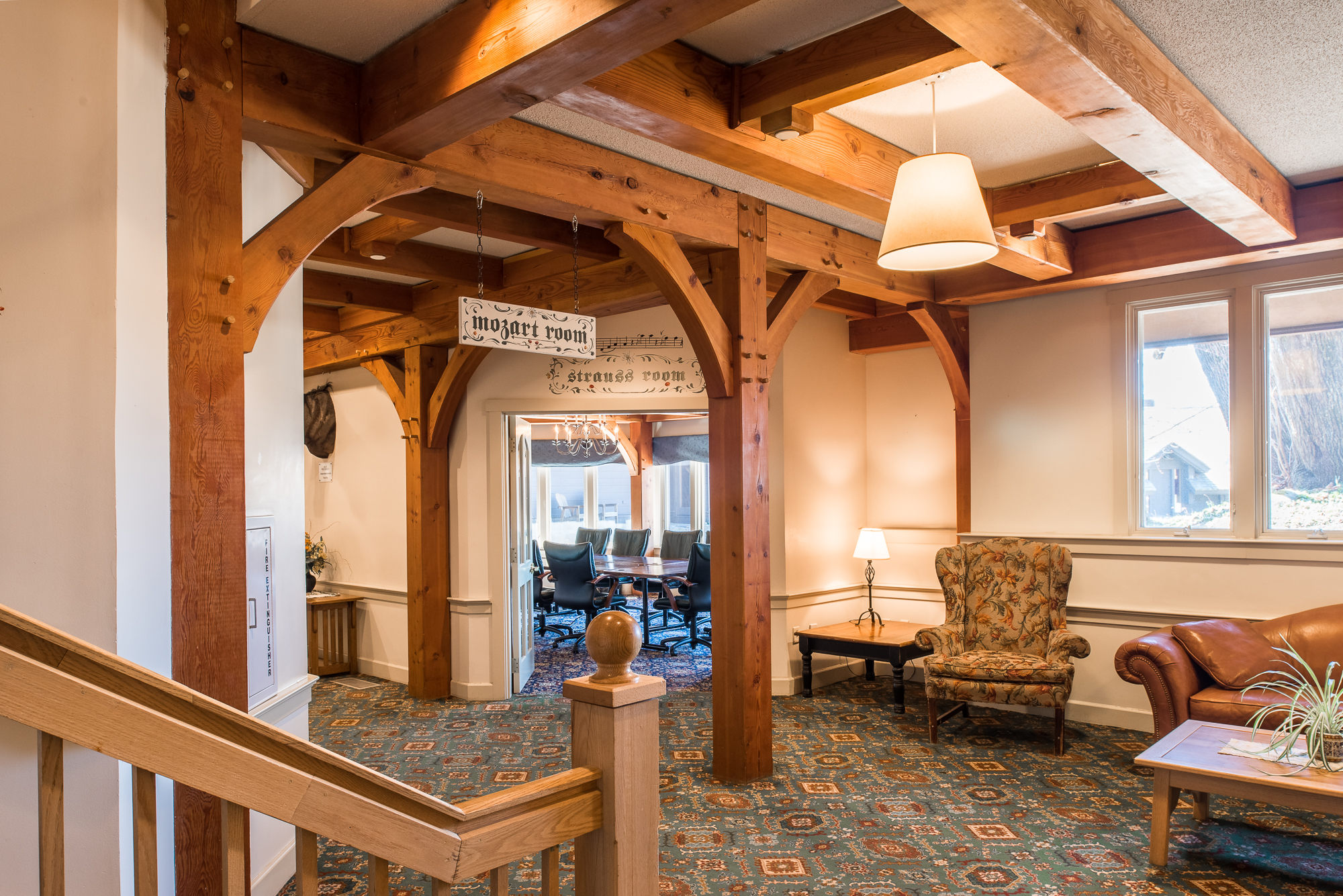 Last, but not least, is the the Trapp Family Lodge. The frame was fabricated with planed smooth, douglas fir timber.  The warm timber, leather furniture, and soft lighting make it a great place to stay cozy, inside, safe from the cold.
Learn more about this project: Trapp Family Lodge
Thanks for stopping by our timber framers' blog! If you like this post, or have timber work questions, we invite you to get in contact, ask an expert, or share your thoughts in the comment section below.