This post covers some of the decisions a client makes when they decide to build a timber frame home.
One of the first decisions that needs to get made is whether the client wants help from a Construction Management Company or to take on the project for themselves.
In this example, we are going to talk about a project where a construction management company was involved.The client chose to enlist the help of Bonin Architects (their management choice), because they were new to the area.
Bonin Architects is a wonderful example. Their firm offers everything needed to start your project, manage it throughout, and make sure the final home is fabulous.
Initial Meeting – Interview

Discuss your (you are the client) project in detail. Wishes, goals, expectations, questions, budget, ask them everything. THEN, let them respond, tell you what they can do for you, let them make suggestions, let them help.  If this "interview" turns into more of a friendly, 2-way conversation of agreement, you may have found a good match. Remember, they are interviewing you as well. You also need to trust your management company (we'll come back to this).

House Plans

Have you already have chosen a home design that you love? If so, the construction management company can recommend placement on land and/or site work needed that will benefit the overall design.

Drawings and Approvals

House plans are offered in a 3d, sometimes with a virtual walk through, so you can see, literally get the feel of the space and design details before the actual building starts.

Construction Permits

This will be handled by your team.

Subcontractors

Your construction management will choose the subs for you and that's where we come in! We are a timber frame subcontractor and include in house engineering. Sometimes we also engineer and detail the foundation, which we are happy to do.

Trust – this is where the trust comes in. You (remember, you are the client) need to embrace the experiences your management team brings to the table and as long as they understand what your project needs and goals are – let them handle it – you'll enjoy it much more.
One of the most rewarding parts of a timber frame project is seeing the frame get raised. Check out the time-lapse video below of a timber frame raising!
In the midst of the project, you will be in touch with your construction management team to talk about things that come up along the way.
Progress Meetings

You and your team will agree – how often can you come and visit? You are busy, what makes sense? To see the progress, discuss open issues, etc.
In the mean time, photos and skype can get you through – no worries.

Wrap it Up

Finishes are the most fun – in my opinion – keep that designer close.
By the end of the project, you will have a home to love! Below are some examples of homes for happy clients.
This one has a beautiful interior with hand hewn beams.
This next one has great landscaping! It's not a timber frame home, but how pretty is that backyard?
One last home that is located on Lake Sunapee. It's an adirondack style timber frame home.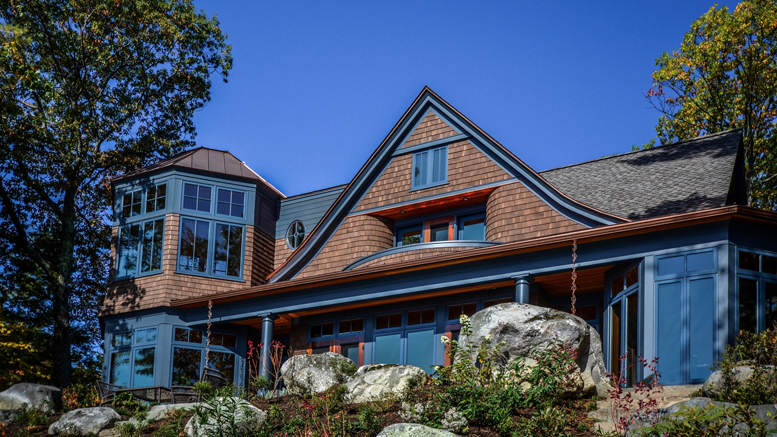 That's it for this post. As usual, thank you for stopping by our timber framers' blog! If you like this post, or have any timber work questions, we invite you to get in contact, ask an expert, or share your thoughts in the comment section below!