Some of Vermont Timber Works best projects are churches. The people in our shop love collaborating with clients to build timber trusses for cathedral ceilings. This post is going to share some of the most beautiful churches we've had the honor to work on over the years, and information about the timber.
 1. Monastery In Virginia

This church has a lot of beautiful, natural, architectural elements, like light from the large windows and the stone alter. The trusses were cut from douglas fir. Douglas fir has a warm grain and is a particularly strong wood, so it's well suited for this light, beautiful space.
2. St. Patrick's Church

The trusses in this church have a modified hammer beam design. The timber is douglas fir and the beams are planed and chamfered. Planed timber is timber that has been sanded so that it's smooth to touch. Chamfered beams are beams that have had their edges cut down so that they are sloped and symmetrical.
This church is a nice example of how much character detail work can add to a frame. Some of the details that you can look for in the picture are the curved braces, the chamfering, and the finials. Braces are the diagonal timbers used to support the beams. Finials are the decorative bottoms of the beam ends.
3. Vermont Veteren's Chapel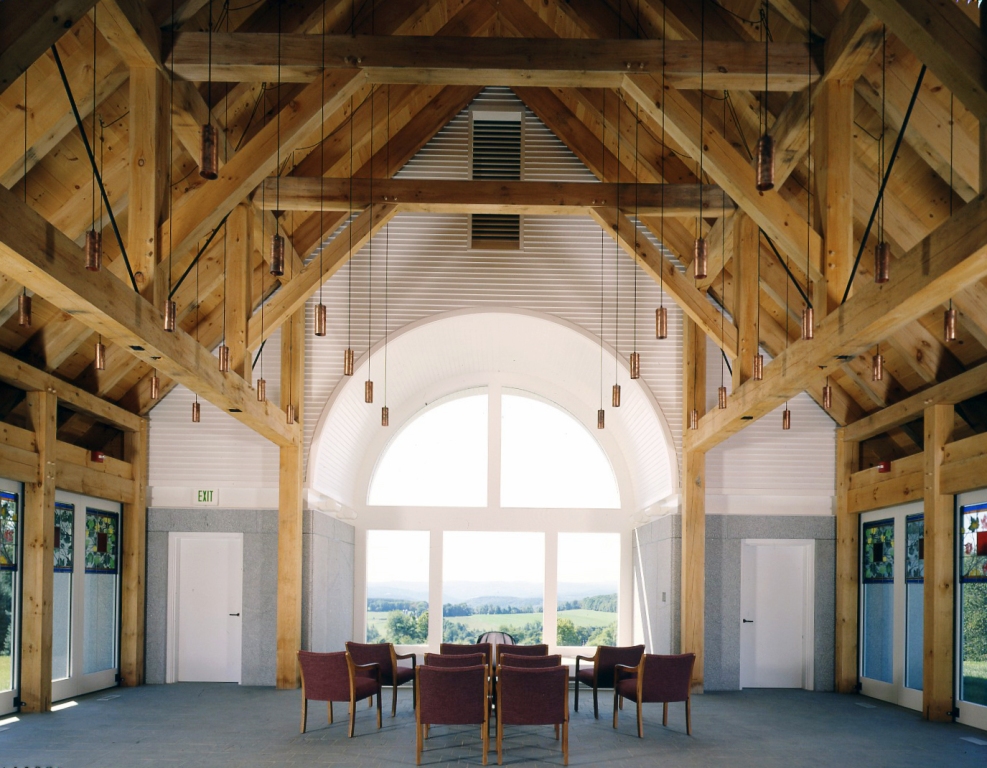 This church has a frame with girder trusses and an open-air design.  We custom design timber frames based on client needs. This frame was designed to leave space for sliding glass doors to surround the perimeter of the building.
4. St. Catherine's Parish

Saint Catherine's Parish has scissor trusses that were cut from douglas fir and are stained dark.
5. First Presbyterian Church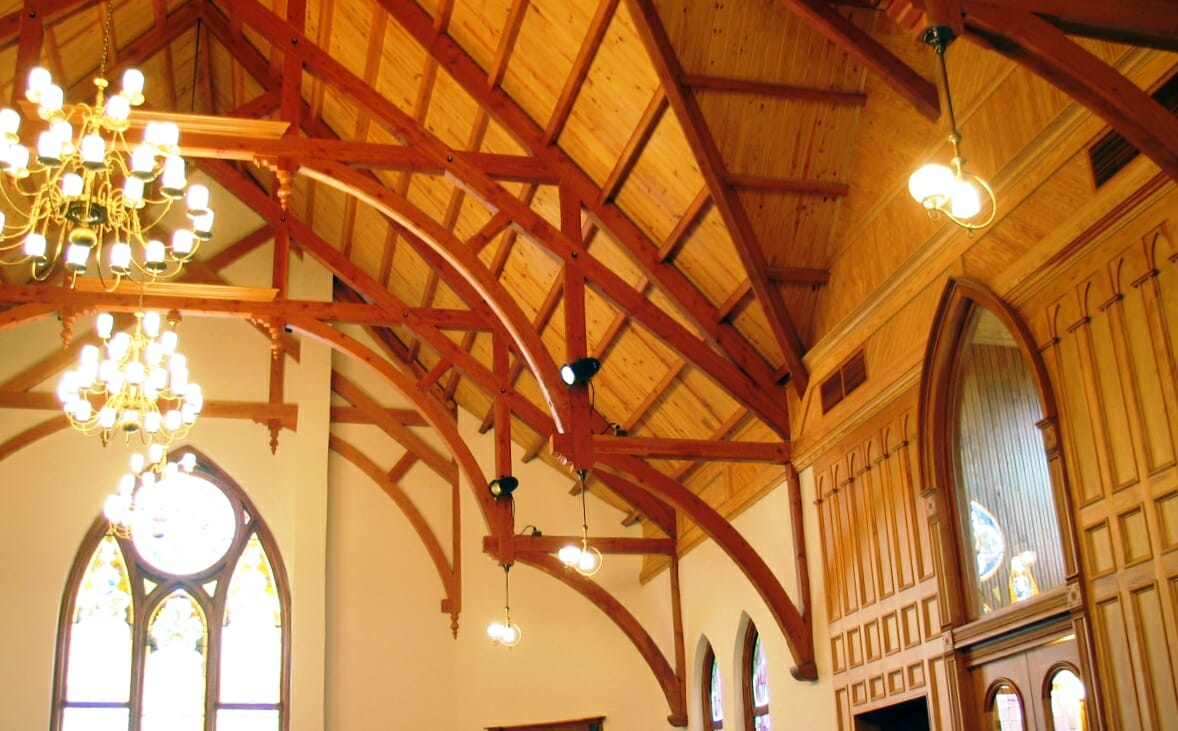 Last, but not least, is First Presbyterian Church. These trusses were built to replace the church's original trusses that sadly burned in a fire. The challenge for this project was to stay as true to the original truss design as possible, while simultaneously ensuring the structural strength of the new frame, so that it can stand strong for years and meet updated building codes. In the end, we were able to provide a frame that is both strong and a near match to the original trusses. Like the previous churches in this post, the timber is douglas fir.
You may have noticed that all of the timber used for these churches is douglas fir. Douglas fir is a good species choice for church trusses because it is a particularly strong timber. We are able to design more intricate trusses that span wider distances with douglas fir than we would be able to with softer wood species.
Thanks for stopping by our timber framer's blog! If you like this post, or have timber work questions, we invite you to get in contact or visit our ask an expert page.