These barns may make you feel some type of way. They may make you think of the smell of hay bails, sweet feed, and horses. At least they make me think of those things. They were built for horse lovers, and if you're interested in horse barn timber frames, then you will probably like this post!
1. Timber Framed Hay Loft

This first barn is in Rockingham, VT. It has rough sawn hemlock beams and white pine plank boards.
The hay loft is an interesting part of a horse barn, because it needs to be designed carefully. Hay bails are compacted tighter than they used to be, which means they are heavy – at least 100 pounds per square foot. If the barn owners plan to store a lot of hay in their loft, then the hay bail weight needs to be accounted for in the timber frame design.The frame needs to be able to accommodate the hay loads and also meet building codes.The resolution to this challenge changes project-by-project, but often, intermediate posts are added next to stall doors, and the joists are increased in size, which increases the strength of the frame.
2. New England Stable

This barn is in Louisiana. It has 4 horse stalls, a tack room, and an L shaped loft for storage. The timber is rough sawn hemlock. We design stables based on client needs. It's common to include space in the frame for stalls, tack rooms, and hay storage.
3. Three Story Horse Barn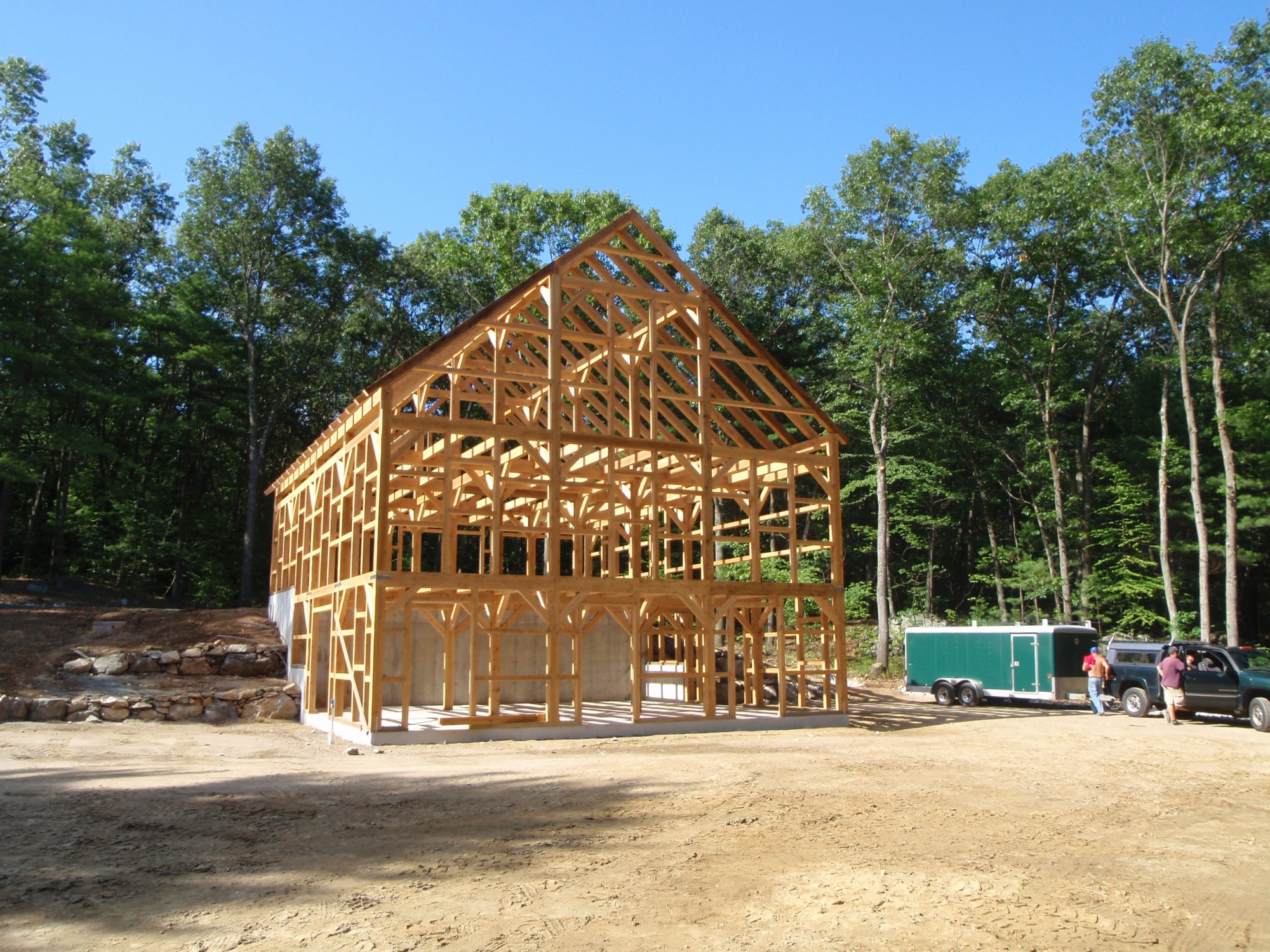 A three story barn with rough sawn hemlock timber. The bottom level is for horse stalls and the upper two levels are for equipment and storage.
4. Another Sunshiny Hay Loft
This hay loft is in a 36'x80′ horse barn with a rough sawn hemlock frame.
5. Carolina Horse Barn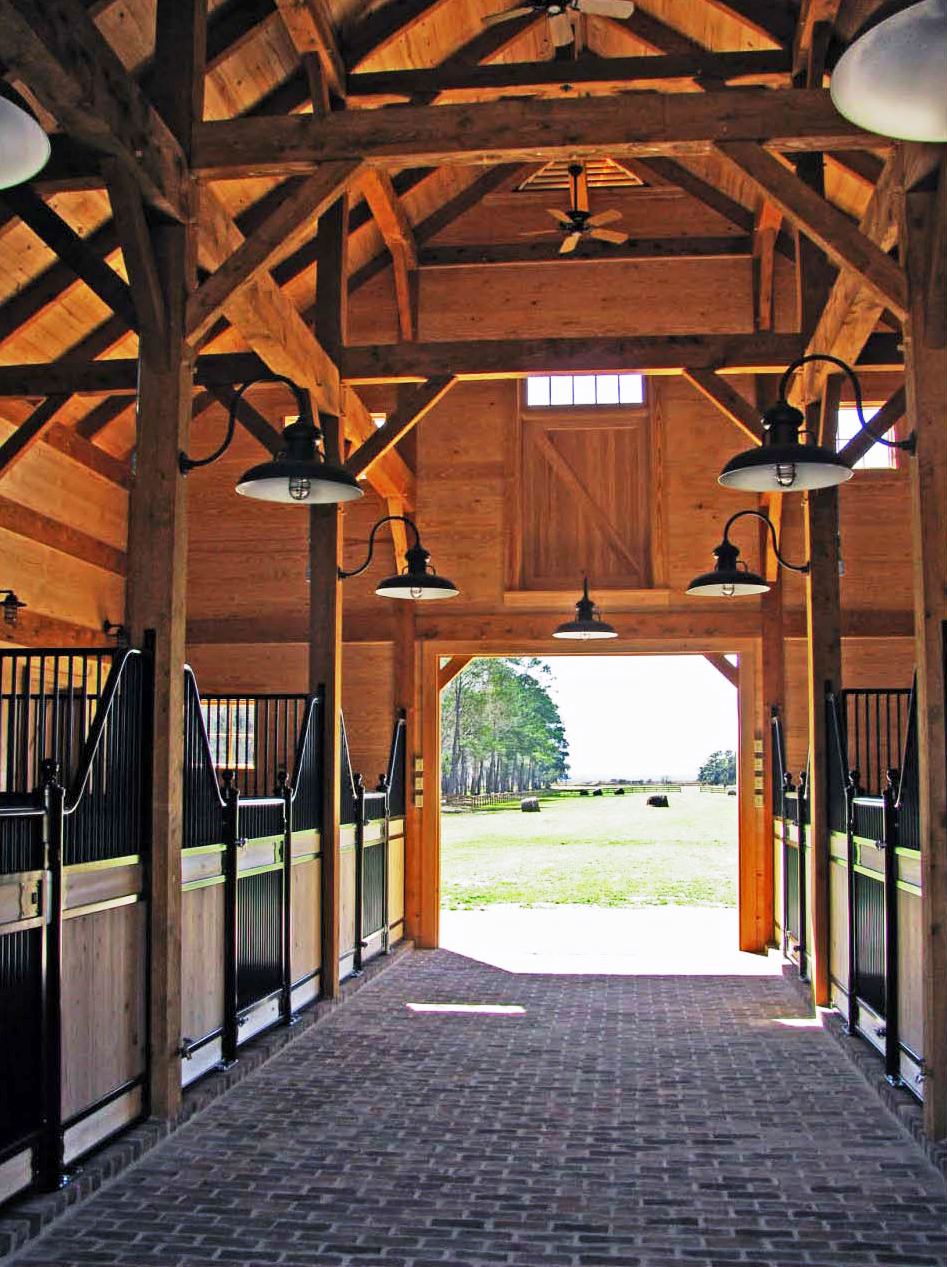 Last, but not least, is a barn with eight 12'x12′ loafing sheds, a center isle, and a hay loft. The timber is rough sawn hemlock. Custom iron stall hardware, a brick floor and lovely lighting really dress up the interior of this stable.
You may have noticed that all of these barns were constructed using hemlock. Hemlock is a good wood species for barns for a few reasons. One reason is that the color of hemlock naturally gets richer over time, which gives barns a beautiful, rustic look. Another reason is that hemlock hews well. Hand hewn timbers have a very cool, traditional look that suits horse barns. Also, hemlock is resistant to rotting and a relatively inexpensive wood species. One last reason hemlock is a good choice for barn frames is that horses don't like to crib on hemlock as much as they do other wood species. White pine, for example, is like candy to horses, so we never use it for horse barn frames.
These barns all happen to be hemlock, with good reasons, but we've also built high-end douglas fir barn frames and beautiful oak barn frames. One of the best parts of working with Vermont Timber Works is that your frame will be custom, so we can help you make the best design choices for project.
Thank you for stopping by our timber framers' blog! Please feel free to share your thoughts in the comment section below, and if you have timber work questions, we invite you to get in contact or visit our ask an expert page.